My kids have been asking about a PE or health program for a while now. They all love learning about how to live in a healthy way, and how their body works. We received the WAY Comes Home Kit from HomeSchool Scholastics, an i4 Learning Company at the end of July, and they've been excited for each lesson ever since!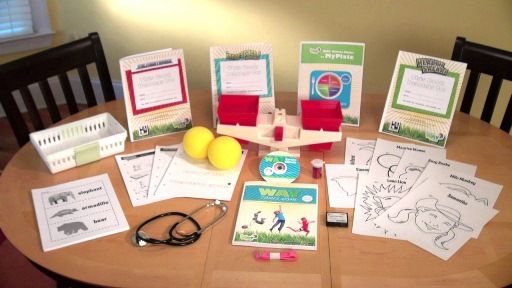 The WAY Comes Home Kit includes a lot of items, each of which was greeted with major enthusiasm from my crew. The kit includes everything you need to complete all of the lessons besides basic school supplies like pencils or crayons and scissors.
It includes:
Parent Guide
Student Journals (one journal for each child at each age)
WAY Comes Home DVD (which introduces some of the lessons and also has exercise activities for the kids)
WAY Vocabulary Cards
MyPlate booklet
Fulcrum Scale
Transparent Counters
Plastic Eggs
Measuring Tape
Balls
Plastic Storage Bins
Stethoscope (and more)
The small student journals do cover a wide range of ages. There are corresponding lessons and activities for each level. The Parent Guide divides the curriculum into 5 modules with 3 activities each. The Modules are Getting Started, Where Do You Begin?, Let's Get Active, The Nutrition WAY, and Health – It's Personal.
When you purchase this curriculum, there is an online component as well. New lessons are posted quarterly, with three new lessons each quarter.
Each lesson rotates as being focused on one specific grade/age level, but always includes ways to incorporate students that are doing the lessons at a different level.
The age/grade levels are:
WAY Health Safari – Grades K-1
Kids learn about staying well and are introduced to what good health is using a variety of activities and lessons that are right at their level. They go to Health Safari Land and get to ask questions and grow their basic knowledge. It integrates science, basic language arts, and math. In the Parent's Guide, these lessons are noted with a green tab and blue background.
WAY Me Mysteries – Grades 2-3
Students get to be Me Mystery Detectives to explore health issues. They also get to work on their communication and critical thinking skills through the activities in this level. In the Parent's Guide, these lessons are noted with a red tab and orange background. Students also use their science, language arts, and math skills to complete the modules.
WAY Innerspace Adventure! – Grades 4-5
Students completing this level are part of the WAY TEAM. They keep a personal journal to focus on writing skills and also incorporate science, math, and language arts into the lessons. In the Parent's Guide, these lessons have a blue tab and purple background. This level does require more writing, but it is always writing with a purpose, not fluff!
I love that the lessons are Christian-based. There are prayers (short Bible verses) at the end of every lesson. There are also some famous quotes for reflection.
Each lesson includes a section on getting things ready for the parent to make sure they are prepared. Optional library books are suggested, vocab words are introduces, and there's a very well laid-out plan on how to teach the students the lesson. There are art projects recommended, too. Finally, there is a section called Weekends with WAY, which gives a few activities to do over the weekend to extend the lessons.
The way that this is written, each grade level has one activity per module in their student journal. For example, Health Safari has Activity 1.1 Come on a Health Safari with Me, 2.1 What Is My Role?, 3.1 The WAY My Body Moves, 4.1 Food to Grow On, and 5.1 Happy Hands, Healthy Me.
Since I have kids in all of the age ranges for this set, I actually had each kid do each activity. If you were only working on one level and doing one module a week, you could easily finish this in 5 weeks. However, by stretching it out into 3 activities per module for each of my kids, it will take us much longer to finish and makes it more of a full semester of health and PE for them.
My kids have enjoyed doing this together. So far, the Art Attack activities have been a family favorite and work well when doing the curriculum with students of varying ages. We've also been doing several of the Weekends with WAY activities while out and about, like from Module 2 when it says to play charades as a family by acting out the WAY Vocab Words. We did that with a few friends, and it was fun! We also did the activity from that where we go on a walk and talk about health action choices. My kids love bragging on themselves when it comes to healthy decisions that they've consciously made.
This program is a STEAL at just
$29.95 with FREE SHIPPING
!
Would you like to see how other families implemented this homeschool physical education and health program into their elementary homeschool day? Click the banner below.