I've been looking into a solid writing curriculum for my daughter, and was thrilled to have the chance to review one from WriteShop. She is going to be going into 4th grade this upcoming school year, and she has outgrown many of the programs we already have on hand. (Yes, I'm a curriculum hoarder!)
For our review, we received the print Teacher's Guide as part of the WriteShop Junior: Book D Set, as well as the Junior Activity Pack w/ Fold-N-Go Grammar, Book D (Digital PDF), and the Junior Time-Saver Pack, Book D (Print).
WriteShop has a great elementary writing program, split between several levels for grades K-6. The particular level we got to try is recommended for approximately 3rd to 4th grade students. According to the publisher, it could also be used for 5th graders reluctant to participate in a writing program, and for some 6th graders.
I do agree with those recommendations, but feel like the older students might need a little extra encouragement as they may perceive the program as too easy because of the content which seems like it might be a bit childish for a 6th grader. However, the content is solid and the silliness and creative approaches are to help gain and keep the student's interest while completing the program. It really is fun!
I will say that this is not an independent course for your student. This is pretty teacher intensive, but the lessons aren't very long. I would say that we spend between 20-45 minutes on writing each day. Our average is about 30 minutes. I'm not hands-on the entire time, but I do sit next to my daughter to supervise and to be available to answer questions.
WriteShop Junior: Book D Set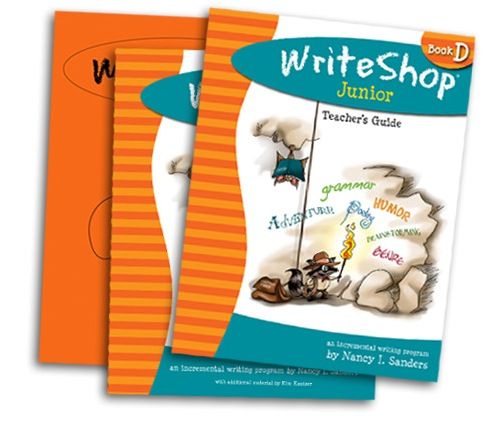 As I mentioned, we received the printed Teacher's Guide, the digital version of the Activity Pack w/ Fold-N-Go Grammar, as well as the print version of the Time-Saver Pack. This is the complete package for the curriculum, though you could go without the Time-Saver Pack if you really wanted to.
WriteShop Junior: Book D Teacher's Guide
Price: $45.95 Print, $35.50 Digital (PDF)
The Teacher's Guide looks a little overwhelming at first, but once I started reading through, I was thrilled with it. There is a thorough introduction to the program, including tips and tricks to plan your schedule. The program is very flexible, and I thought it was wonderful that they included ways to teach each lesson in either three weeks or in two weeks (and they had 2 suggestions for how to break up the work to do that).
The guide also gives suggestions for teaching children that are working on two different levels. There is a list of materials and supplies needed for the program in general, including the supplies needed to create a writing center at home. The guide breaks it down for you from the beginning as to which supplies you'll need for every single lesson. I love that the supplies requested are all common things, such as highlighters, index cards, envelopes, yarn, stickers, manila folders, dimes, and construction paper.
Next, the guide gives information about teaching the lessons. There are 10 total lessons in WriteShop Junior: Book D. Each lesson follows the same format with the same types of activities, which are varied depending on what that lesson's subject will be. There are a total of 8 Activity Sets per lesson, which loosely translates to a day's work for the program. For example, for Activity Set 6, your child will be working on Editing and Revising. This is true whether they are working on Lesson 1 (Letter of Invitation) or Lesson 8 (Historical Fiction).
I love that there is familiar structure throughout the program. It helps me and my daughter to know what to expect and to mentally prepare ourselves each day!
In the Teacher's Guide, they first give detailed instructions with the "how and why" of each Activity Set activity. I found myself flipping back to this section frequently, because they gave some great tips and suggestions here. The guide tells you the purpose of the activity set, who will be writing, how often the step will be done, and some tips. There are often alternative suggestions listed as well.
Finally, the teacher's guide goes through every individual lesson and gives the specific information for that lesson. There's a box talking about Advance Prep needed. It tells you exactly what you'll be doing with your child and what your child needs to be completing. There are also sample scripts for parents to use as a guideline when doing the actual lessons.
WriteShop Junior: Book D Activity Pack with Fold-N-Go Grammar
Price: $45.95 Print, $35.50 Digital (PDF)
I printed all of these out and placed them in a binder. I separated them with a yellow sheet of paper to make it easier to distinguish which section of my binder I was needing to work with.
This is essentially the student workbook portion of the program. It contains the student worksheet pack and the Fold-N-Go Grammar pack. Not every activity that they complete for their lessons requires a worksheet, but many of them do. This worksheet pack is absolutely essential.
Each worksheet is clearly marked, as well. For example, if you are working on Lesson 8, Activity 6, it is labeled "Activity Set 8:6 Editing and Revising" in the top left corner.
I loved that we got the digital version of this, because it made it easy to print off several copies of a particular sheet. You see, the worksheet pack also includes many additional resources. There are blank reading logs, blank journal pages, and evaluation charts. I am printing as I go for the reading logs and journal pages, and there are several options to choose from!
Fold-N-Go Grammar
Honestly, I could have printed this out and just assembed all of the Fold-N-Go folders all in one sitting. There is one folder (which you assemble with just a stapler, tape, and a manila folder) per lesson, so a total of 10. However, I chose to preassemble 4 of them and save the rest in my binder until we get closer to those lessons. As I mentioned earlier, each lesson can take 2-3 weeks to complete, so I have time!
The Fold-N-Go Grammar program is a grammar supplement used to assist your child in their writing at this level. It is not an optional part of the program, and the skills really do tie right in to what your child learns each lesson. It also helps them build upon their knowledge, and they are able to apply it to future lessons and their own personal writing as well. For example, there are lessons on prepositions, references, punctuation marks, and self-editing that can be used for the rest of their writing careers!
Every Fold-N-Go Grammar folder is assembled exactly the same, and each one has 6 pages each. They are designed sort of like worksheets for the child to complete, flip-book style. They are to be used as reference guides as well, and each one comes with 2 reference bookmarks that can be used quickly and contains the pertinent information from each grammar lesson.
WriteShop Junior: Book D Time-Saver Pack
Price: $14.95 Print, $11.50 Digital (PDF)
The Time-Saver Pack is an optional element to the program. I do highly recommend getting it, whether you order the digital version or the print version. The reason I say that is because there are several components that would be a pain in the rear to create out of thin air (especially without a thorough example!) These are truly a time saver, and well worth the small investment.
Each component is clearly labeled, and detailed instructions are given for each activity. This makes it simple to assemble and use it for your student's lessons. I just tucked the contents of this pack into the binder that I used for the Activity Pack to keep everything together. I simply pull out the pages as I need them.
Using WriteShop Junior: Book D
Initially, I thought we would do the two-week per lesson schedule. However, with our general summer schedule, I quickly realized that we'd have to cut back to the three week schedule. The program was flexible and this was no problem.
The program looks a bit overwhelming at first, but it is laid out so well. I jumped in head-first with assembling the Fold-N-Go Grammar folders for the first several lessons, set up our Writing Center (which required me to dig up a dictionary and thesaurus, both of which tend to go missing in this house!), and get some other supplies together. I also set up her reading log and journal folder as well.
We chose to store everything together in a big plastic crate to keep it all contained. This is working out as a great solution for us, and it's a visual reminder when that crate comes out to get in writer-mode! At first, the huge collection of stuff being brought out overwhelmed her, but once she saw that it was broken up into manageable spurts of activity for each lesson, she started to look forward to our writing time together. (That's another thing about the program. She loves that it is so teacher intensive because it gives her a chance to have one on one time with me.)
Each lesson is loosely scripted and thoroughly described within the Teacher's Guide. I never found myself wondering if I was doing something right or if I was evaluating my daughter's writing correctly. It is all laid out plainly and simply.
My daughter has enjoyed using the program. We are almost through with Lesson 3, and she's definitely used to the format and looking forward to the next steps. She's even asked me if she can work ahead. Sometimes I let her work a little bit ahead, but I try to limit her to one activity at a time because I want her to go into each component fresh and with her best effort.
Since beginning the program, she has become a better writer. This is apparent not only in her school work, but also in her fun writing that she does in various journals or when she writes and illustrates short books on a whim. She is more careful with her first attempt at writing and making fewer careless mistakes.
I really want to get my son started on one of the lower levels of this program, because he needs a lot of help in writing! One of my favorite parts of this program is that it is not intimidating, and it meets the student right where they're at and improves upon their own skill set. We love this program.