Nature is a wonderful way to teach kids about the world around them, and as a way to gently introduce science into their curriculum and daily life. I was recently sent a DVD to review from BrainFood Learning that really captured the attention of my kids. The Fascinating World of Insects DVD is a 43 minute long DVD that is great for all ages. When this came in the mail, my kids insisted that we watch it immediately!
My children have always loved insects. We've done a few small unit studies in the past, but really only at the preschool level so that everyone could be included.
We've watched some videos about insects before, and the films either just show insects roaming around in nature, or they have been too technical in nature. This DVD from BrainFood Learning was different for us. My kids were able to watch the insects in their regular habitats, which they love, but the viewers (my kiddos) were also given facts and information.
The best part? There is a multi-section review that reinforces the things that they've learned and it's right on the DVD. There are review questions good for beginner and advanced learners, so it's possible to really let your kids take off with their insect IQ from watching!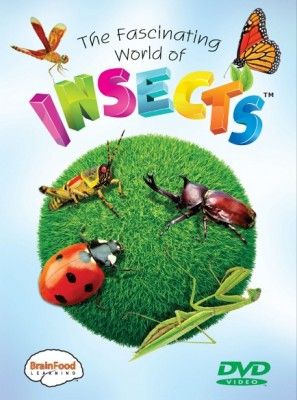 In this DVD, the following insects are featured: grasshopper, ladybug, rhino beetle, firefly, mosquito, honey bee, water strider, ant, praying mantis, dragonfly, and the butterfly. With each of these, my kids learned a lot more than I thought they would. At the dinner table, I would ask them facts, and I was amazed that even my 3 year old was spitting out information that was far more complicated than I figured he would have been able to understand!
I watched the video with my kids so that I would have an idea of what they were watching, and I was really impressed. The quality was great, and the insects were beautiful to see. I think my children enjoyed being able to see the insects much larger than what they look like outside so that the identifying features, body parts, colors, and markings could really be studied.
The video also helped us because it ensured that everyone got a chance to look. It seems like when we find an insect outside at home, by the time we rally everyone together to look at it, it's either hopped or flown off or my 3 year old has squished it to bits. (I promise I tell him not to, but he just can't seem to help it. Insects freak him out!)
Inexpensive Family Fun
The DVD retails for $14.99 and is for all ages.
I would say that kids 2 and up would love to see the world around them in full color on their screen. This DVD was entertaining for my 3 year old, 6 year old, and 8 year old. After they had watched the DVD, they kept an eye out for the featured insects when they were playing outside and were telling their neighborhood friends all about the insects. I thought that was great, because they were further reinforcing their learning by actually teaching others!
For a sample of what it is like, check out this video from Brainfood Learning:
If you have children that are constantly asking how and why type questions about insects, you have to check this out! I found it a great way to help each of my older kids learn at the same time, but at their own individual levels.
Free Lesson Plans
This would make a great compliment to any nature study that you might be working on. The information in it is great for kids of all ages, and of course review participation is optional if you have a much younger child viewing it. (Don't count them off, yet, though! I am sure you'd be surprised at what they do know!)
Another great thing to consider when you purchase these DVDs is that there are lesson plans available for each of "The Fascinating World of.." DVDs.
These lesson plans are geared toward elementary grades and are wonderful! They include activities that are hands on, as well as quizzes, games, and more. If you're a fan of lap books, you are definitely going to like them. Choose one activity or every activity in there for some enrichment and reinforcement of what your children will have learned through watching the DVD.
Are you interested in learning about the other DVDs or what others thought of this one? Check out more Crew Reviews.

Please note that I did receive a review copy of this DVD. All thoughts and opinions are my own.