My children are always very curious. They want to know how everything works and constantly want to look things up so they can understand this big world around them. We were fortunate enough to be able to review a few DVDS from an awesome series, and I can't wait to tell you about it. Curiosity Quest is a series that aims to teach kids ages 7-14 all about a variety of subjects by interviewing the real experts and giving viewers a behind-the-scenes glimpse into the subject matter.
We were able to review the DVD Combo Pack – Produce (Episodes include: Mushrooms, Cranberries, and Orange Packing) and the DVD Combo Pack – Swimmers of the Sea (Episodes include: Sea Turtle Rescue, Penguins, and Salmon). Each episode is approximately 30 minutes long. Every episode begins with a viewer-submitted question that host Joel Greene explores in depth.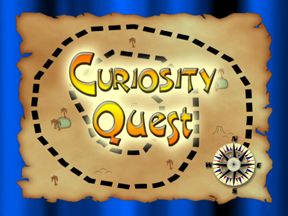 Have your kids ever wondered about the lives of penguins or perhaps how produce gets from field to table? Curiosity Quest answers burning questions from real kids. Joel Greene takes it "out into the field" to seek out experts to assist in teaching kids all about the subject of the episode. It includes some fun vocabulary quizzes (hearing what other kids think certain words mean can be really funny!), and a lot of thorough information that is not only explained, but is shown in practice!
Each DVD Combo Pack retails for just $24.95 each, and could be used for children younger than the listed ages of 7-14 and definitely create a learning experience for older learners as well! I found myself picking up new information right alongside my kids as we viewed each episode.
How We Used Curiosity Quest
I used Curiosity Quest as a fun extra for the kids on days where I didn't want to give them a lot of mindless screen time, but I knew they needed a break from school or free play. We watched one or two episodes per week. My kids, ages 23 months to almost 9 years, were glued!
Before we watched the episode, I asked which one they wanted to watch. Once my kids picked something out at a group, we snuggled up to enjoy it together as a family. During the episode, when questions were posed to the audience, I would ask each kid what they thought. Usually, the questions had to do with vocabulary words that they probably hadn't come across before. Their answers were funny, and the kids in the episode were pretty entertaining as well.
As the kids had questions of their own, we would periodically pause the DVD to discuss it further. We would finish the episode, and then if they had further questions, I would look it up online with them to quench their thirst for knowledge.
Each week, they were excited to watch a new episode! Once they saw how engaging the show was, they didn't hesitate at all to take the time to complete a full episode in one sitting. They would usually beg to watch another one, too!
What We Thought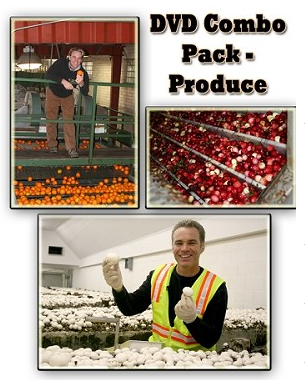 My kids' favorite episode from the
DVD Combo Pack – Produce
was the one where they got to learn about harvesting cranberries. Just like Joel Greene mentioned in the DVD, my kids had seen cranberry juice commercials and always wondered why the farmers were standing in a big body of water with lots of cranberries in it, wearing large waterproof boots.
This DVD directly answered this question!
My kids enjoyed comparing their lives to the lives of farmers that harvest cranberries. They talked about all of the work and effort that goes into it, and how cold it would be to work out there to get the cranberries. My children really enjoyed seeing the packaging side once it had been harvested and sorted.
The episode about mushrooms was probably the most eye-opening for me. I had no idea how involved o r how hot (literally!) that the process could be. My kids were a bit grossed out by mushrooms once they saw how they grew, but have pointed them out to me every time they see a recipe with mushrooms or see them on a menu!
Learning about orange packing was a fun lesson. My kids were particularly impressed at how high-tech they are when deciding which oranges are considered good or bad. They were also amazed at how quickly workers were able to sort them into various groups.
After watching these episodes about produce, my kids have been totally different while out and about. When we've been to the grocery store since then, they have been very observant of the packaging and labels of produce. They share little facts with each other about quality control, packaging, and the age of the items set out for us to purchase. It's cool to watch them apply what they have learned in real life scenarios.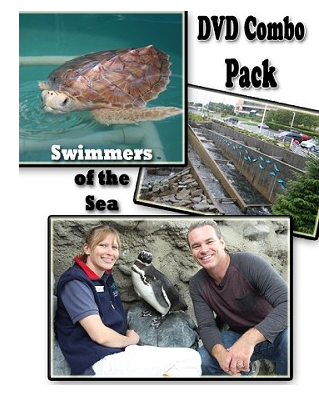 The episode my kids liked best from the
DVD Combo Pack – Swimmers of the Sea
was about penguins. Joel Greene went to the Monterey Bay Aquarium and learned more about these unique birds from real experts. He also got hands-on with them to give a unique perspective on their mannerisms, preferences, and characteristics.
Although my kids have studied penguins a lot over the last few years, they still learned quite a few new facts from this episode, and they were able to get up close and personal through the DVD to really get to know the animals. We stopped the DVD a few times for them to talk about other facts they already knew, and for them to discuss penguins and other animals they liked!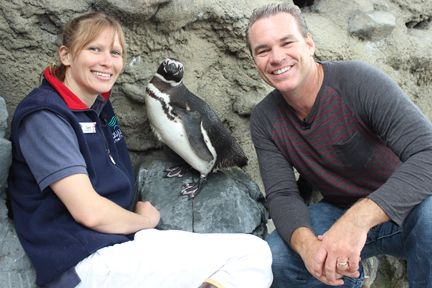 The Sea Turtle Rescue episode was one that my daughter liked a lot. She had heard about sea turtles and their quest to live and thrive before, but Curiosity Quest really went more into depth than Grace had been exposed to before. She liked that they went to a real rescue center to talk with experts about them. She really wants to save the sea turtles now!
The Salmon episode was probably the one on the DVD where I learned the most. My kids thought their life cycle was totally bizarre and they giggled hysterically at how "creepy" it all was. I honestly haven't been exposed to many real, live fish in my lifetime as I've always lived in land-locked areas of Texas. I got to learn a lot more about salmon through this, and I loved that they didn't just show a bunch of pictures and throw out boring information. Joel Greene has a great way of really getting down to what the viewers really want to know and answering those questions!
In short, we loved Curiosity Quest!
My children are already begging for more new episodes, so we've already been browsing the Curiosity Quest store for what we'd like to see next. They even have subscription programs, which may end up being what we go with just to keep the fun coming and the save money, too.