Science is one of those subjects that I don't exactly LOVE, but my kids sure do!  I've found that it's easier for me to get in the mood to "do science" if I have several of my kids working on it together, so that was the plan for this school year.
We have loved everything we've tried from Apologia Educational Ministries, and they have recently updated a homeschool favorite.  Our latest review items were hot off of the press when we got them.  We received the Exploring Creation with Astronomy, 2nd Edition Student Text, Notebooking Journal (for grades 3 or 4 through 6th), Junior Notebooking Journal (for grades K-2 or 3), and Audio CD version of the textbook.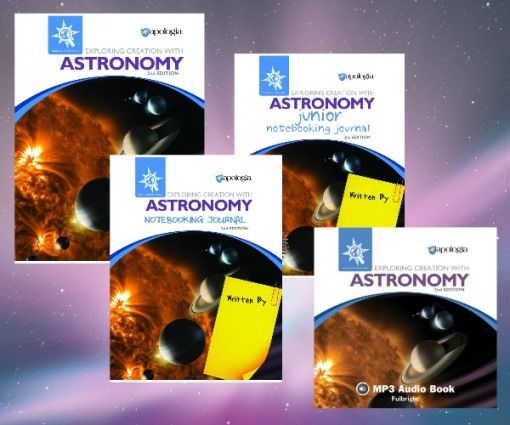 I have 3 students that I wanted to use this set with, so as soon as I found out we would be reviewing this, I hurriedly ordered an extra Notebooking Journal so that my 1st grader could use the Junior edition and my 4th and 6th graders would each have their own regular Notebooking Journals.
This curriculum covers a full year of K-6 science.  It takes astronomy, and presents it with a Christian perspective.  The text and journals have been redone and a friend of mine said that it is VERY different than the previous version.  The graphics and photographs are stunning.
There are 14 lessons total, but each lesson can easily take 4-7 class days to complete.  If you complete science 2-3 days a week, this will certainly last all year.  The Notebooking Journals do contain suggested daily schedules so that you know exactly what to read, when to complete notebooking journal activties, when to complete experiments or other activities, when to complete the Scripture Copywork, and more.
I've had several people ask me what the difference is between the Junior Notebooking Journal and the regular Notebooking Journal.
What I love is that the assignments are either the same or similar enough that the activities can be completed with older or younger siblings at the same time within their own notebooking or junior notebooking journals.  The main differences I noticed were that the Junior Notebooking Journal contains coloring pages at the end of lessons, whereas the regular Notebooking Journal has "What Do You Remember?" pages, which require students to write out the answers to several review questions.  The lines to write on in the Junior Notebooking Journal are the bigger ones with the dotted lines in the middle to help encourage good penmanship, whereas the regular one just has plain lines to write on.
I was surprised, but the copywork verses and the difficulty of the crossword puzzles and other activities are the same in both journals.  That made my 1st grader feel very grown up!  Still, I modified the copywork some so he would have a bit less writing to do.  There is quite a bit of writing in most of the assignments, so I felt like he got plenty of practice!
We used the audio book/disc during our lessons to read to us.  We followed the schedule listed in the journals, so it told us (in green) what to listen to on the companion CD.  The textbook is written to the student, so it is very easy to follow along with and understand.  When my kids didn't understand something, we took a few minutes to talk it over.
There are times when the material suggests recording things from our lessons and field trips in the Field Trip Journal, which you can check out from a past review that we did.  This is certainly not required, but it's a fun way to allow kids to express and share when they've had an opportunity to do some extra enrichment activities and field trips.

The book covers the following lessons:
What Is Astronomy?
The Sun
Mercury
Venus
Earth
The Moon
Mars
Space Rocks
Inner Planets (Review)
Jupiter
Saturn
Uranus
Neptune
Outer Planets (Review)
The Kuiper Belt and Dwarf Planets
Stars, Galaxies, and Space Travel
Then there is a final review and also a place for students to record their final thoughts.
When you purchase the book, you're also given special access to a ton of book extras, which can be found online with the secret password.  These resources include links to tons of things, including beautiful pictures, videos, biographies, instructions for even more activities, animations, further research, official websites, and more.  It is linked by chapter and has general resources as well.  I think that if you used everything in the text book and notebooking journals and the website, this could easily be a middle school level astronomy course.  It's just another way to include all of the kids or to dive deeper into discussion and research into the topics.
My kids are really enjoying the course.  They're mostly excited because I'm committing to doing the activities!  There are a TON of them and there is even a brand new science kit you can purchase from Apologia that contains pretty much everything you need to create ALL of the activities listed in the book, as well as some BONUS ones!  My kids are already begging to do more, so I'm sure I'll buy that, too.
Even my son who doesn't like doing a lot of cut and paste and short answer questions is enjoying the course.  He's told me that science is his favorite subject, and he is very happy that we have this program.  Space is something they're all curious about, so learning about NASA, the history of astronomy and how people have studied outer space in the past, about astronomers and astronauts, the sun, rotations and auroras, and solar eclipses, and more has been very fulfilling for them.  Those things and more are in the first 2 lessons; we still have 12 more to go!
If your elementary-aged children are desiring a hands-on, colorful, and interesting curriculum to learn about the stars and planets and everything else related to astronomy, then you'll want to check out this updated and revised program of Exploring Creation with Astronomy, 2nd Edition by Apologia.
See what other families thought about this awesome curriculum by clicking on the banner below: