My daughter and I recently began a new family read aloud as a review to use during our homeschool day.  It's called The Wise Woman with Literary Analysis Journal Questions and is available from Home School Adventure Co.
This character study is a 160 page book, which is available in print form for $28.95 or as an ebook download for just $14.95.  
The Wise Woman
is the story written by George MacDonald.  Following each chapter of the story, you will find between 16 and 24 literary analysis questions written by Stacy Farrell.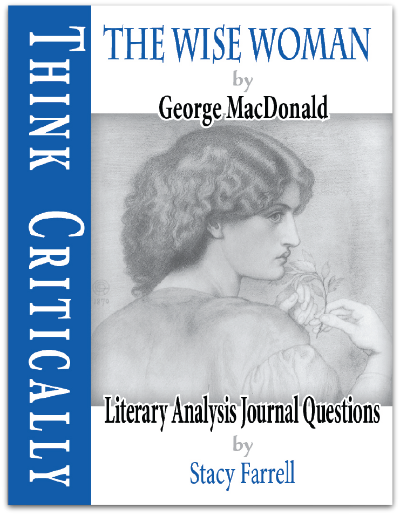 What Will You Learn?
First of all, the story is very beautifully written.  I will warn you, that if you are not a fan of long sentences that closely resemble a run-on, it might drive you a little crazy.  Stick with it.  The style of the writing was interesting and different for us, but once we got going with it, the engaging nature of the story made it much easier to follow and to even crave reading through just to find out what was going to happen next.
The literary analysis journal questions really work on critical thinking skills.  Not only must the reader decode and sink into what the story is saying, but now it is time to pick it apart to find out what is being taught.  Some of the lessons hidden within the story are very subtle, but some of them are pretty blatant.  These questions help all readers, including parents, to work toward clarity on the book's message and meaning.
The themes addressed in this book include selfishness, pride, compassion, and sacrifice.  It talks about discipline, fear, loneliness, grace, and wisdom.  Truly, readers will be able to learn so much more from this story (through the questions and personal reflection) to have more insight into their relationships with friends, family, and even God.  It's a lot deeper than it seems at first glance!

Who Is This Book For?
First of all, this book can be enjoyed by both boys and girls.  We were confused at first by the title of the story, wondering if it was going to teach us how to be a wise woman or something.  Within one chapter, it was apparent that it was referring to a character in the story. 🙂  This is totally a unisex story!
As far as appropriate ages go, my daughter is almost 9, and she was eager to listen to the story.  In fact, she's frustrated that we aren't done yet because we've been taking our time with our busy schedule and holiday trips!  I think that children ages 8-high school would enjoy this as a read aloud as a family.  It's great to be able to discuss this together and to look up some of the words used in the literary analysis journal questions.  Many of the terms were above my daughter's current language arts level, so she got to expand her knowledge a little extra in looking these things up!  I think that students ages 12 and up could probably be left to do the questions more independently with minor guidance.  High schoolers could be expected to do the reading and questions independently.
I wouldn't really recommend this for younger students, because the vocabulary and content is a bit challenging even for the younger age range I have listed.  The story and its writing style are just too advanced.  I'll be honest, I had to look up some words for myself!  This is a great exercise as part of the analysis, though, and can teach your children just how practical basic research skills are, even for parents!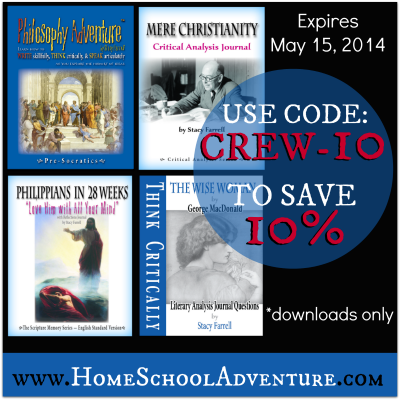 How Did We Use It?
We are reading one to two chapters per week, so we're actually still working on the book!  We are well over half way done, and I've been totally impressed.  I thought my daughter was going to have a hard time keeping up, because it is written at a much higher level than she normally engages with.  However, I was pleasantly surprised when she would beg to read another chapter after finishing the previous one.
We took 1-2 days to read the chapter.  Then we would answer about 3 of the literary analysis questions on that second day.  Later in the week, we slowly went over the majority of the other questions.  I skipped very few, but that's the beauty of having so many to choose from.  If my daughter was reading this independently, I would have had her complete all of them.
To answer the questions, we just went over the answer verbally.  Occasionally I would have to go back to the text of the book to clarify what was being asked.  This was particularly true with any questions (or answers) requiring the use of some of the more difficult vocabulary words.
Also later in the week, we completed the vocabulary section for that chapter.  This helped her to work on her research skills (using a dictionary and context clues), and I did make her write the answers to these.
Older students could probably complete all of the work related to one chapter in just one or two sessions.  Once you get in the groove with reading, it doesn't take long to breeze through a chapter.  The literary analysis journal questions, however, do require a bit more time and reflection.  The questions are a mix of easy, straight-forward questions and also much deeper questions that must be thought out and may take a while to answer.
Final Thoughts
We are enjoying the book a lot!  The story really cuts right to the same issues that I'm actually facing with my daughter right now.  She has been struggling with a sense of entitlement and spoiled behavior.  I've been struggling with parenting it.  It looks like we both get to learn how to cope by reading The Wise Woman.  How crazy is it that we are better able to analyze our life situation through these characters rather than simply reflecting on our own real life?  This story is totally relatable!
I also might as well admit that I have read ahead a little bit because I'm anxious to know what happens next!  While this book wouldn't have been a natural choice to pick up on my own to read with my daughter, I'm so happy we've had the chance to review it.  It truly, truly is worth the time and expense.  Don't miss it!