I'm excited that Heather from Only Passionate Curiosity gave me a complimentary sneak peek into her brand new eCourse called Homeschool Rescue for me to review.  It is an eCourse designed to help the struggling homeschooling mom to take control of her homeschool by following this 60 day program.  If you're a veteran homeschooler experiencing issues that you just can't get to the bottom of, a newbie that feel so out of control or even burnt out already, or maybe just completed your first year and feel a tad overwhelmed, keep reading!
*As of July 2017, this course has been renamed Homeschool with Heart, but the program remains the same content-wise. 🙂  I just wanted to share that to clear up any confusion if you are doing research about this program!
When I first got access to this program, I was having one of those weeks where I wanted to just give up and maybe move to a tropical island for a year or two!  My oldest had been driving me crazy.  My 5 year old was demanding and begging to do school even though I'm not starting with him for a few months.  The older boys were dragging their feet during assignments that used to be no big deal to get them to complete.  This mama had just about had it at that point.
I decided to start Homeschool Rescue late one night after I had finally gotten all of the kids to bed.  All you need to complete the program is an internet connection and a browser to check out the course on.  You can even download the audio itself, note sheets for following along, and even transcripts to be able to use this program on the go, anytime, anywhere.
It is comprised of 20 video lessons (this list seems to be growing!) divided up into 5 modules, currently.  Once you're signed up, you will have lifetime access to the course, which retails just under $100.  It's possible to take as long as you need to work through everything, or even go through it every year or two to get back on track!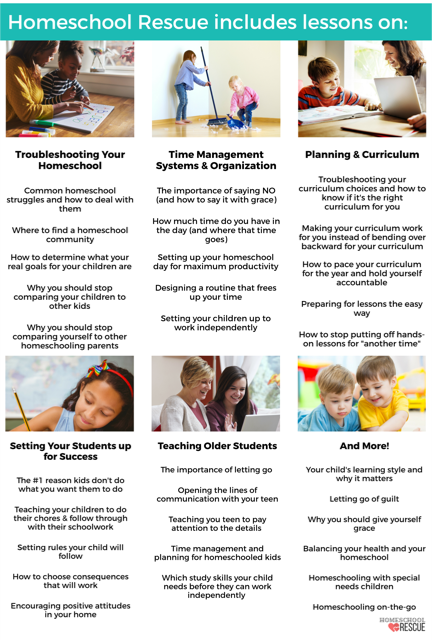 Heather guides you through 20 video/audio lessons, and boy does she make you take a long, hard look at your homeschool.  If you need someone to hold your hand and give the unicorns and rainbows version of homeschool, this probably won't work for you.  During this course, you print out worksheets of exercises to complete and really have to pour your heart out on the page.  Luckily, you NEVER have to show anyone what you've said, but it's a great way to come clean with 
yourself
about the struggles you're having.
The cool part is that instead of dwelling on how crazy your current school situation is, Heather turns it around and gives practical steps and tools to use your strengths, dreams, and desires to get the results you want.  She has you do things like creating an emergency plan for those days where you JUST CAN'T.  These are awesome for sick days, high anxiety days, or times when maybe you won't be home but want to make sure the kids will be doing something.  Another great exercise that she included in there was a decluttering challenge.  I may have to do that one a few times a year, because if you know me, you know how chaotic our homeschooling spaces are!
There's even a 60 Day Course Plan breaking down each lesson and exercise and worksheet into bite sized chunks for you.  I personally can not finish it all in 60 days, but I printed out the plan so that I can check things off as I complete them.  I'm pretty visual, so that aspect is a great added bonus to the course for me!
There are some amazing free printable resources that have been placed in a BONUS section of the course.  Beautiful printable planners in many styles, assignment sheets for kids, and more are available.  You also gain access to a private Facebook group where Heather and her team are there to help guide and encourage, as well as answer questions.  It's fun to be able to talk through the course with other people who are completing the same things you are!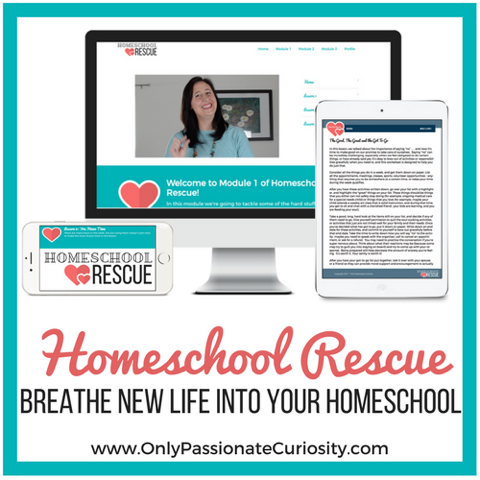 I haven't even scratched the surface with this program.  I've gotten through several of the lessons, but I've been taking my time.  Heather encourages you to work at a pace that doesn't stress you out more.  Let's be clear though, you need to be serious about working through the exercises!  There
will
be homework.
I'll admit, I cringed a little when I had to think about schedules and planning exercises.  I'm pretty Type B naturally, but I've realized that I have to be a little more Type A to create order in our home!  Heather walks you through coming up with our OWN schedules that really work in our OWN homes, not some cookie cutter template.
I'm really looking forward to the modules on time management for older kids and study skills for them.  I love that she's included information for all homeschooling levels and ages.  The advice and worksheets in this course really resonate with me and seem to be pretty universal to all homeschooling families out there.  She includes resources and links to anything that you might need to compliment the information in the program.  This course gets an A+ in my book.
To see how other homeschooling mothers utilized this eCourse to get their homeschool (and lives!) on the right track, click the banner below: