I have two pre-teens now, so puberty is in the forefront of my mind with them. A lot of sex education materials are quite graphic, and we're just not quite there yet. I want my kids to understand about their reproductive systems without getting into all of the rest of it for now. Our latest company that we were able to review offers a solution that I was pleased with, along with a plethora of other health, safety, and hygience videos to stream for kids from kindergarten and up.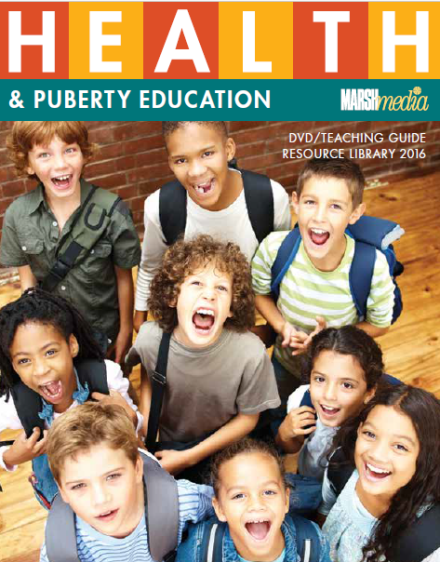 MarshMedia
usually sells or rents the streaming their videos to schools. For the first time ever, they are offering a Homeschool Special just for homeschooling families. You're able to pay a one time fee of $50 for unlimited viewing and access until 12-31-2017 to all of their 59 videos through online streaming. You must click the
Homeschool Special
link for this deal as it is not available anywhere else on their site.
Puberty Education
First and foremost, I wanted to check out their puberty videos. My daughter is growing up quickly, but I'm always worried that health videos or books will start discussing intercourse and really be more of a sex education resource. I am just not ready for that yet, but we will get their soon. I was pleased to see that MarchMedia's video Growing Up – Girls (for girls in grades 5-7)

This video give technical information to teach upper elementary and middle school girls about changes that happen to their bodies during puberty. This includes talking about things like oil glands going crazy and causing pimples, how their voice will become richer and possibly a bit deeper, how the body rids itself of waste, and how the reproductive system works.
The video was less than 15 minutes long, so it kept her attention just fine without giving too much information. I would like to use this as a learning stepping stone. The things she had more questions about will be things we discuss in greater depth. After the video was over, I got to answer some good health-related questions. This helped to keep our lines of communication nice and open like I like!
Health and Safety
The video Go Slow Whoa is perfect for early elementary students, but my older kids liked it, too! This cute, animated video plays like a game show to teach viewers about healthy, balanced diets full of fruits, vegetables, lean meats, and more.
The whole idea is to teach kids which foods are Go foods (these should make up the majority of your diet, such as fresh produce), which ones are Slow foods (only a few times a week, such as white bread or rice, peanut butter, ham, baked chips, and sports drinks), and which ones are Whoa foods (only have once in a while like french fries, fried chicken, cake, candy, soda, and mayonnaise).

It also talked about sugar and how it can slow your body down and cause cavities. It showed how sugar hides in the foods and drinks we consume, and taught kids how to find hidden sugars. The video also taught kids about portion sizes. My littles enjoyed the video because it was very fun and flashy! The game show host was lively, and the animated foods made them laugh.
More from MarshMedia
There are over 50 videos available from MarshMedia. The section I was most interested in looking at was the one with videos on puberty for boys, girls, or both from 3rd grade up to about 8th grade. There are also healthy and safety videos like the Go Slow Whoa video, as well as videos on topics like Alcohol, Self-Image, AIDS, Scoliosis, the Immune System, Hand Washing, Manners, Hygiene, and even what to do in different scenarios when it comes to Safety. There is also a small collection of streaming videos specifically made for students with special needs to cover puberty, safety, how to act, and more.
These videos are a nice resource for homeschoolers. If you've ever felt like your kid was missing out on these big topics by not being in the school system, or maybe you have never covered health topics before, these will fill that gap quite nicely. They are age appropriate and cover the topics well.
To see how other families used MarshMedia, click the banner below: