If you've been interested in an easy solution for delicious, homecooked meals that don't take forever to make, you just might need to check out MyFreezEasy. We were given a year's subscription to the service to try out, and I can already tell you that we're enjoying the meals. I'm really liking that I can save money and time.
With the MyFreezEasy.com Freezer Meal Plan Membership (we received the Premium Annual Membership), we now have access to a whole host of meal plans each month. The goal of these meal plans is to save you time and money by essentially making the same meal twice. You can either freeze both or eat one now and freeze one for later. The idea is for you to make 10 meals in about an hour. I'm a slow poke, so it did take me longer, but it was worth the effort.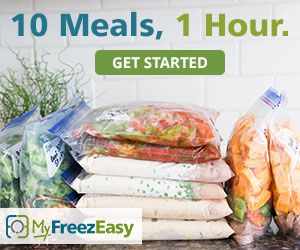 There are 8 different meal plans to choose from each calendar month, as pictured below. You are given access to the files to download. I have been saving them to my Google Drive account so they'll be easy to access any time.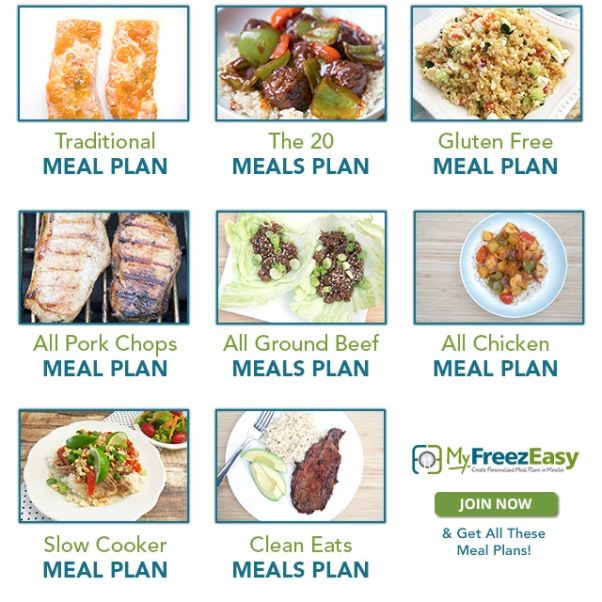 With the Premium membership, you can also create your own meal plan using your favorite 5 recipes from the meals listed in the database. There are a lot of meals to choose from, but I must admit that I wish that there were more gluten free and paleo options.
I was definitely interested in the ground beef recipes. There was one recipe that I wasn't too thrilled about, so I went into the "Swap Recipes on this Month's Meal Plans" section of the website, chose the All Ground Beef Meals meal plan, and then I was able to drag and drop whatever I wanted. What I loved most about this was that I could edit the serving sizes for the meals. Also, it went ahead and populated ONLY the ground beef recipes for this swap since it's a swap for the ground beef recipes meal plan.
I loved that I didn't have to look through a bunch of other dishes to find the right kind. When I choose an all one meat meal plan, it's because I've scored a great deal on that meat and that's what I want to use. For the meal plan above, I ended up adding in the Grilled Ranch Burgers, and they were so good! I was able to throw together some 3 ingredient burger patties, and my whole family enjoyed them.
I printed out several of the meal plans and punched holes in them to put in a meal planning binder.
I did change the meal plan up a little bit by swapping around some and adjusting the serving sizes to 6 or 8, depending on the recipe. The great thing is that it automatically adjusts the amounts of the ingredients needed throughout the PDF, so when it is saved and printed, it's just the way I wanted it to look.
This type of meal plan really works well for my needs and my style of cooking. You are cooking a meal for your family each night, but there are some shortcuts given to you. If you choose to freeze all of the meals to use later, there are instructions given on how to reheat the meal later. You are able to substitute side dishes and ingredients as needed because the ingredient list for each recipe is fairly small.
I also love that the author, Erin Chase of $5 Dinners fame, chose to use simple ingredients. You will be able to recognize everything and find all of the ingredients at any regular grocery store.
As I said, I do with there were more Paleo/Gluten Free options. Even using the Build Your Own Meal Plans (found in the Member HQ section of the site), there were limited options for that type of meal. There were enough to give me an idea of how our family liked what was available, though.
Extras
There's a great resource section available with videos. There's always an assembly video for the Traditional meal plan option, and then highlights for each of the other ones. Erin Chase herself shows you exactly how to prepare the meals each month.
Additionally, each meal plan also comes with some printable labels if you'd like to keep things neat and organized. It prints out the name of the recipe, instructions on how to cook it when you are ready to use it (along with serving suggestions), and has a place for you to write the date on there of when you made it.
Erin also included a free ebook of simple side dishes. This download is 45 pages long and includes pastas, breads, rice, potatoes, vegetables, and beans.
My family has been enjoying the recipes. I love that it's a specifically freezer-cooking meal plan. However, it's so easy to make the meals to eat that same day to enjoy as well. If you are low on freezer space, most of the recipes could be prepared, cooled, refrigerated, and reheated a few days later to eat.
See how other families used this service by clicking on the banner below: