We've listened to many audio drama's from Heirloom Audio Productions and recently had the opportunity to review their latest radio theatre production called Captain Bayley's Heir. This 2-CD set has 2 ½ hours of audio theater for listeners from about age 6 and up. We listened to it as a whole family in our van when we were driving to homeschool activities and back home. It's always been such a pleasure to enjoy a good audio drama or audio book during our commutes!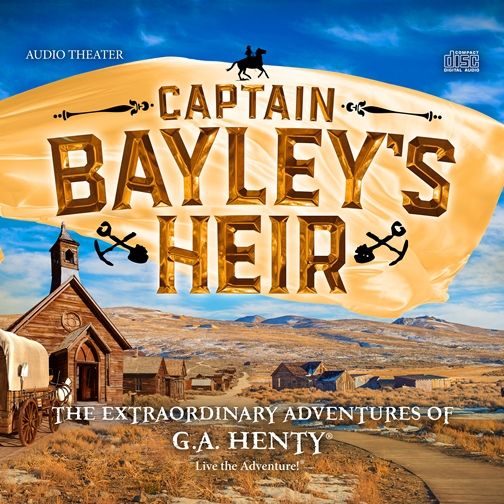 Captain Bayley's Heir
The tale takes listeners back in time to America's Gold Rush, although it begins in England, where we meet our main character, Frank. As you will see in the story, Frank has a heart of gold and has bravery that is a rare find. Unfortunately, he get accused of theft. Suddenly, his whole world seems to be falling in on him, and he doesn't know what to do. His cousin, Fred, encourages Frank to flee the country. America will be his new home.
Throughout the story, listeners follow Frank as he works on a ship, earns favor with Captain Bosarge, and eventually finds himself heading west to California. Frank wants to make his own way, to show that he can stand on his own two feet. During his journey, he is shocked and even angered at some of what he sees. He matures and grows a lot through his experiences and his conversations.
When you listen, you'll see that the story is complex with multiple story lines happening at once, both in America and also over in England as the mystery unfolds surrounding the accusation against Frank.
Just as Frank is starting to really have success in his new life in America, such as finding gold, his mind wanders back to his past. He misses his family and friends. He starts to worry about what they think of him, but longs to make contact again.
While Frank had been so worried at what might happen to him as people thought that he did something that was untrue, it is seen that by leaving, he appeared even more guilty. In the end, the truth is revealed and his innocence is confirmed. Lies and treachery are exposed.
During the story, you find out how God provides strength and courage when people feel too weak or worn out to have hope of their own. Their faith carries them through. You see how betrayal can hurt others and how the truth comes out in the end. You learn that forgiveness is possible, no matter the sin.
We really enjoyed listening to the story. I hope I didn't give away too much. I'm sure that your family will enjoy this wholesome, family-friendly retelling of a classic by G.A. Henty.
Live the Adventure Club
As part of my review, I was given access to the bonus content on the Live the Adventure Club website. Not only did that include being able to download or listen to the adventure online, but I also got a beautiful e-book of the story, downloadable poster, the soundtrack, desktop wallpaper, and a study guide.
In addition, I noticed that the website also had online content to further the study of each chapter, including a read along script, chapter quiz, Thinking Further Questions, and even some vocabulary as well. This is exactly the same study guide and review as the ebook/printable version, but set up in a new way. The Chapter Quiz questions are the same as the Study Guide's Listening Well questions. The Thinking Further questions and Defining Words are also the same chapter for chapter. I like that there is the choice at the format, because I was able to use the website easily on the go without the need to download the whole study guide at once and I could quickly pick and choose which chapter to talk to my kids about. Also, you can mark each chapter as complete, bookmark it, and even mark it as a favorite.
I do still really enjoy the study guide. The whole thing is 38 pages and includes some great illustrations. Additionally, there is a listing of more suggested reading, as well as Bible studies for God's Grace, Becoming a Christian, and Honoring Your Parents. These little touches make a big difference. I love how Heirloom Audio Productions always goes that extra mile to provide quality resources for their audio dramas.
To read about how other families used this in their homeschool, please click the banner below: