Ever since I started teaching my 5 year old son to read, it became obvious that he needed help focusing on the specific words being decoded.  My daughter had been insanely dedicated and had no trouble seeing a full page of words and staying on task reading one word at a time when I taught her to read 3 years ago.  My son, however, has had a difficult time reading one word at a time when his eyes wander across the page.  He would lose his place and get discouraged having to start all over and would end up confused, actually asking if he has read this word or that word already.  
If you happen to have a child like mine, or if you yourself get mixed up while focusing on words you are reading, there is a product out there to help you out.  Crossbow Education has a product called Reading Rulers that provides tracking support with reading.  Not only that, but it helps dull the visual stresses that some people experience while reading, including glare and blurring text.   This product can be used for all people at all age levels – young and old!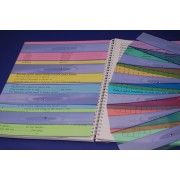 Colors included in the 10 pack are: Yellow, Celery, Grass, Jade, Aqua, Sky, Purple, Magenta, Pink, and Orange.
We got to try the Duo Reading Rulers – 10 color 10 pack, which retails for $16.95.  The "duo" part describes that there is a section of it that has a narrow strip for a normal-sized single line of text, as well as a larger viewing area for small sections and paragraphs.  The 10 color 10 pack includes one of each of their colors.  The Reading Ruler itself is like a little plastic see-through ruler that you lay on top of whatever is being read.  It highlights the text in the color of your choice.   This is helpful for children and adults with dyslexia, ADHD, vision issues, and more.  The person using it can also choose which way to lay the ruler on top of the text as one side is glossy and one side is matte.
My son enjoyed using these with his language arts lessons.  Each day, I allowed him to choose one for use during his studies.  After about a week of jumping around from color to color, he has settled on using the Jade and the Aqua rulers on a regular basis.  We loved that there were so many choices.  Some of the colors just seemed too dark, some were seemingly too bright and distracting, but those two seemed to work the best for him.  
We have a daily poem that we read with his language arts program, and we used the broader side for it because the text is larger on that poem than in a normal book.  We have been able to read it together line by line, and using this product, he is able to stay focused on the words and on questions I have asked him about specific parts of each line.  Later, when we read from regular books, we have used the narrow side to highlight the words.  He has liked that he has control over the pace of his reading and he always knew whether or not he had already read that part of the passage.  When we were using the Reading Rulers, the person doing the actual reading held onto it and moved it as needed.  This helped everyone to stay focused on the same line or lines of text at a time, but also gave my son the feeling of control and accomplishment as he went line by line reading independently.
As the homeschool teacher, I certainly enjoyed having this tool.  I am glad that we received the 10 color package because we were able to try them all out with my son to see which one(s) helped him focus best.  I still have all of the other colors to use with my other children and myself!  My son seemed to really enjoy using it as well and acted much more in control of his reading lessons. 

Permalink for Crew Blog Post for Crossbow Education Reading Rulers: http://schoolhousereviewcrew.com/786615/
Disclaimer: I received a free copy of this product through the Schoolhouse Review Crew in exchange for my honest review. I was not required to write a positive review nor was I compensated in any other way. All opinions I have expressed are my own or those of my family. I am disclosing this in accordance with the FTC Regulations.