This is a sponsored post.  All opinions and experiences expressed are mine alone.
Are your feet aching after standing for just an hour or more?  Do your knees, hips, and back scream out when you're been on your feet?  It's time that you look into Dr. Scholl's Custom Orthotic Inserts!  There is no guess work, either, because you can head to select Walmart stores and try the Custom Fit Kiosk System to find your exact number that will support you in all the right places based on your own needs.
Print the coupon below to save $10.  You can print it twice, which means you and a loved one can be on your way to feeling more comfortable and supported.
(Affiliate Link)

Dr. Scholl's Custom Fit Kiosk System
I decided to give this process a try with my daughter to see how it worked.
We found the Dr. Scholl's Custom Fit Kiosk System right in front of the Walmart Pharmacy.  Both of us took a turn to discover what our perfect number of support was.  As you can see, the variety of different recommendations it may give is available for purchase right on the machine itself.
You simply stand on the foot area and follow the directions.
I was surprised that the mat actually felt like it had a gel in it, so it was quite comfortable to stand on.
During the assessment, you stand on the mat with both feet, and then it prompts you to stand on it a specific way on your left foot and right foot separately.
After just a few minutes, you'll have your own personal recommendation!  My daughter had low arches and a standard level of foot pressure, so her custom fit was a CF 210.
You can analyze your results in more detail if you'd like.  You can also click on the screen to find out more information about how these custom orthotic inserts work.
I was found to have low arches and a high level of foot pressure.  Do you see the red in my heels?  I was told that a CF 410 would be perfect for me.
My mother and grandmother have been using these Custom Fit insoles from Dr. Scholl's for years.  They both wear a 440 and my mom said she's due to buy a new pair.  I told her about the $10 off coupon that I would be sharing below so she could save some money next time she heads to Walmart to buy a pair.
(Affiliate link)

Be sure to check your Valpak envelopes to find an additional coupon. In fact, if you want to find out more about Dr. Scholl's Custom Fit Orthotic Inserts from their website, there's even a $10 rebate available as well. It seems like now is the time to give them a try, especially since you can really save some money!  Why not, especially since your satisfaction is guaranteed? #TryDrScholls today. 🙂
While you're here, be sure to enter to win $500 to Walmart as well:
(Affiliate Link)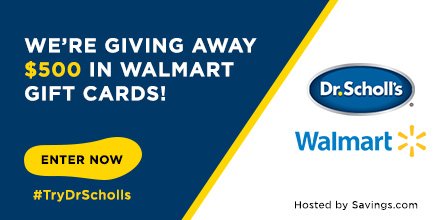 Self-care is so important, and this is one quick and easy way to really take care of yourself and improve your daily life.
What's your Custom Fit?