There is a great new online book available that would make an awesome summer reading program for students from 4th-7th grade called Orphs of the Woodlands from Star Toaster. In fact, my 2nd grade son has enjoyed the book we reviewed called "The Treasure of HighTower" at least as much as his 4th grade sister! If your child is able to read chapter books and enjoys online games, you will want to grab your two-month subscription, good for up to 3 students.
Orphs of the Woodlands
The program combines a fun and engaging chapter book with lessons spanning many subjects (including character training) and an exciting game. If your child likes to play role playing, fantasy, and strategy games, this is a real winner. It includes the academic part that you will love with the games they enjoy. It's the perfect summer reading program, because it can be finished over a few weeks or months, and your child will get engrossed in it. They might not even realize they are learning as they complete the tasks to earn gold stars for their game!
My kids have spent a good amount of time on this program since we were given access to it a few weeks ago. They have been reading through the chapters of the book and learning at the same time. Throughout the reading, there are lessons sprinkled in. They are a seamless addition to the book itself, and my children have looked forward to the reading and the lessons!
They have been learning a lot of great vocabulary words, complete with definitions, and have been able to see those words applied so their meanings are easier to remember. They've also learned math and science concepts through lessons which helped them to earn gold stars for the game part of the program.
My son's favorite part were the videos in the program because they have jokes. My son loves jokes! He said that earning the gold stars could be tough in the program, but he liked being able to use them on swords and food.
Speaking of food, my kids found some very silly recipes on there. The recipes are ones that we can really implement in the kitchen as they do have the ingredients and steps listed, but they have crazy names that would crack them up as they told me to come look at them on the screen. My son thought that one called "Shadow Soup" looked pretty good!
My daughter liked the jobs that she needed to do to earn gold stars. She loved the recipes as well, and learned about nutrition. She also completed math lessons, and for her to tell me that she enjoyed doing math is a huge accomplishment and proves how motivating this game was. It really has woven educational content into the program, making it so much more than just a computer game for kids.
How We Used Orphs of the Woodlands
I loved this program, and so did my children. For once, I didn't have to feel guilty about my kids gaming on this online program. A few times a week, I would "assign" them to read a few pages from the book. I would usually tell them 5-10 pages. A little while later, they would let me know that they'd been working on it and had read way more pages than I had assigned. Then they would tell me all about the jobs they did and how many gold stars they earned and how they used them.
What I loved most is that this was made specifically for students in the upper elementary and middle school levels. It is so simple to find educational games online for younger children, but it's so much more difficult to find engaging educational resources for older students. This program fills a gap where others have dropped the ball. Not only that, but they've done an incredible job!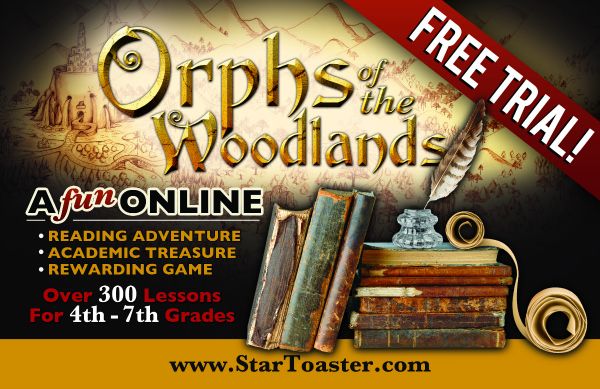 Final Thoughts
The look of the program is professional, and it has been well programmed and thought out. The graphics are beautiful and rich. The story is great and actually really entertaining. Including the kids and the character they get to create at the beginning throughout the game makes it more special and each child gets to have a unique experience. There are little fun things hidden all around, and both of my kids were able to find favorite tasks and parts of the story that they looked forward to the most each time.
It truly is an interactive book with learning sprinkled naturally throughout. I highly recommend it to any family that wants a fun summer reading program. It would be perfect any time of the year for a student that loves games of skill and strategy, combined with reading about a fantasy land. I'm very impressed with the age appropriateness and content of the whole book.
I can't wait for more books in this series to come out! I know my kids will be ready to tackle the next one as soon as it is released. They've had a lot of fun with this one.
They offer a free trial of the first 100 pages of the book, which includes 50+ lessons. You can't beat free! This would be more than enough to know whether your child will enjoy this type of educational game or not. My bet is that they will LOVE it just like mine have.
Read what other families thought of the program by clicking the banner below.

Keep up with Star Toaster on
Facebook
,
Twitter
, and
Pinterest
. Learn more about the program and watch a video explaining it in more detail on the
Star Toaster
website.