It has been many years since one of my children has used Reading Eggs, but I was excited when I was informed that we'd receive a free trial to review. A Free 4 week trial is available for any of you wishing to give the program a spin for your child, as well.
Reading Eggs
Reading Eggs has become so much more in the past few years! It includes the original Reading Eggs program for students ages 3-7. Now it also includes Reading Eggs Junior for 2-4 year olds and Reading Eggspress for kids aged 7-13. Even better, there is a math program called Mathseeds available for students aged 3-9. We've been able to try everything except Reading Eggspress with my littlest 2 kids. Charlie is 5, and in kindergarten. Ethan is almost 3.
I love that I can instantly check out the dashboard to see what my kids have been working on. Charlie has enjoyed working through the lessons. They are interactive, colorful, and very engaging. He likes to continue on so he can get further and further into the map and earn new achievements along the way. He is always pulling me over to the computer to see what he has done.
Charlie also enjoys working on Mathseeds when he's on the website. I like that it is easy for him to navigate around to decide what he wants to work on each day. He is encouraged by the funny characters and the variety of activities as he is actually learning on the Reading Eggs site.
Charlie asks me to use this website every day. He loves how colorful it is and how fast-paced he can go from lesson to lesson. We both like that there are so many lessons, so it seems like he's moving very quickly. He likes to put on his headphones to work on the site so he is free from distractions.
For a little more information on how the program works, check this out:

My youngest son, Ethan, has been playing around on Reading Eggs Junior. It is simple enough that he can do it on his own with very basic pointing and clicking mouse skills. He's delighted at the songs and colorful graphics as he has been working through the program.
Homeschool Support
Reading Eggs has recently made a K-2 Program available, which could be helpful for homeschoolers. Depending on how in-depth you want your homeschool to be, this could be used as a full curriculum for your early elementary student.
They provide PDF charts with 36 weeks worth of work for students to complete, covering Language Arts, Mathematics, Science, and Social Studies using resources from Reading Eggs, Mathseeds, the Reading Eggs Junior Library, and the Reading Eggs Library. Language arts covers reading lessons, phonics, quizzes, spelling, and poetry. The Mathseeds lessons are scheduled, including Driving Tests and quizzes. Science and Social Studies focus on a different subtopic each week, as you can see below in a snippet I captured to share:
I'm also excited to see that there are free printables available for each lesson for school-aged kids. Reading Eggs and Mathseeds each have worksheets in black and white or color with activities for each lesson. Reading Eggspress has comprehension and spelling worksheets for each lesson. They are all numbered, so it's easy to click and print the PDF files for exactly what your child is working on.
This is an awesome feature for enrichment, and would be perfect for parents using the website for after-schooling purposes, as well. I love the lesson planning features and information on the worksheets as well. They really help you, as the parent and teacher, to understand what your child is working on and which skills they should master.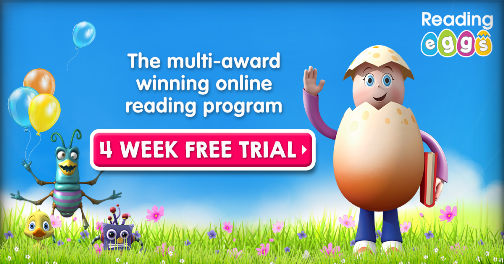 I highly recommend this program.
My kids don't realize how much they're reading. I've had several instances where I look over, shocked, because my 5 year old is TOTALLY reading out loud along with his lessons. This has caught his attention the most of any program we've used so far. He's usually so hyper that he won't pay attention when I try to teach him to read. It looks like this is an effective method for him. To be honest, I thought I'd have to put off teaching him to read for another year or so in order for him to calm down enough to be taught. I guess Reading Eggs has proven that to be false. I'm so excited that this is working so well for him.
My 2 year old is LOVING the program, too. He's recognizing letters and asks for "my account" when he sees his brother on Reading Eggs. I've had to set time limits so that both boys get a chance some days! I think it's cool that they are both finding learning to be so enjoyable.
There is simply too much going on over at Reading Eggs for me to cover at all. Perhaps you'd like to check out some more reviews to see how other families have utilized this in-depth and entertaining curriculum that offers reading instruction, fluency, endless reading opportunities, a math program, a preschool play and learn area, and more. Click the banner below for more: