Training kids to use scissors properly or how to hold a pencil correctly can be a daunting task. My latest review has been a great way to do this from a company that I have used and already love. If you have been reading this blog or checking out my social media for any amount of time, you have probably already heard of The Pencil Grip, Inc. and their range of products.
This time, my family had the opportunity to try The 3 Step Pencil Grip Training Kit (affiliate link), as well as The Ultra Safe Safety Scissors (affiliate link), which are unlike any scissors I've come across before.
The 3 Step Pencil Grip Training Kit
This kit can be used for children who are right-handed or left-handed. With this kit, you'll receive 3 different grips, which are stretch and can be used on your favorite pencils, crayons, pens, or colored pencils. The purpose is to give children a bit of structure in how they grip and hold their writing utensils, but are large enough to be a bit forgiving and flexible as they grip it.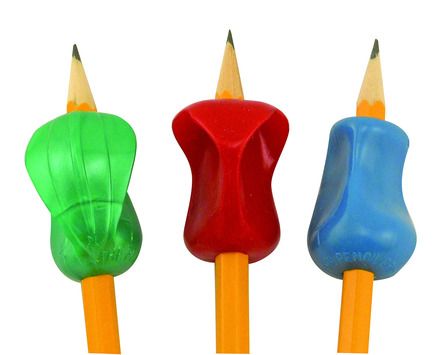 There are three steps in this process to holding a pencil correctly, and The Pencil Grip, Inc. is there every step of the way. It's also a system that's much more affordably priced that you're probably thinking.
Step 1 – The Crossover Grip
This is the pencil grip that is used in the training process. They call the design over the fingers a "super hero cape" to add plenty of structure. It reinforces proper position for fingers as they wrap around and rest on the writing utensil.
At first, my son felt like this was huge and hard to get a good grasp on, but with a few tries, it became second nature. My 5 year old used this one, and it really helped him to successfully use his pencil for handwriting practice.
Step 2 – The Pinch Grip
This pencil grip is noted to be used as a transition product. This one has slight "wings" on it the shows the user where to place their fingers with some structure, but is more open for a bit more freedom. As my 8 year old son used this, he was able to see how to hold the pencil as he was using the grip.
For some, this grip might be a good long-term solution for poor coordination in holding a pencil. It is very comfortable and forces the user to hold it correctly.
Step 3 – The Original Grip
The third step in the system is the original grip from The Pencil Grip, Inc. and is for people who have graduated from both the training and transition stages of holding writing devices. This one is the "graduation" step. This can be used for people of all ages to provide the proper grip and the help them to have less fatigue when writing for long amounts of time. It also prevents a user from squeezing their pencil when jotting something down furiously. With this pencil grip, you're probably less likely to get those writing callouses on your hand! I can't be the only one to get those, right?
I had my 12 year old use this. After our review period was over, I asked if I could have it back, and she actually asked me if she could keep it for using on her favorite pens. That's pretty high praise from a tween, I think! She definitely saw some improvements in her comfort during writing and drawing, as well. We may have to buy some extras so she doesn't have to keep taking this one on and off when she switches to her fine tip markers and colored pencils.
The Ultra Safe Safety Scissors
Here is a product unlike any I've ever seen! These safety scissors have a permanent plastic safety shield that conceals the blades. That means that your child, aged 3 and up, won't be able to stick their fingers through to cut themselves. The scissor blades themselves are sharp enough to provide precise cutting, but they're so much safer to hand over to preschoolers with this extra safety feature.
Below is a video of my 5 year old using the scissors for the first time. As you can see, he places the paper between the safety shield and the bottom blades. Again, this was his first time, so his cutting abilities look a little crazy here. It gets so much easier with practice, which is what these training scissors are all about!
As you can see from the picture below, most will use the scissors with the blade shield on the bottom, but he insisted it go on the top. This did hinder his ability to "see where he was going", but he was glad to use the scissors this way. I would rather that he try it that way if he would use it than continuously correct him. Either way you flip them, they will teach your child how to hold, and use, scissors.
Another unique feature, as you can more clearly see in the picture below, is the yellow training lever. If you have it folded out to use, it will use a flexible spring to automatically open scissors after being squeezed and closed. That makes it easier for kids to cut, because they don't get stuck trying to figure out how to open the scissor blades again to make their next cut. For older or more experienced kids, you can simply fold it back so they can handle it themselves. That's a great way to transition them to standard scissors, slowly.
I really like these scissors. The training lever is an amazing touch, and it has allowed my little boys to cut things better even though they aren't super coordinated yet. I may need to pick up another pair so each of my youngest sons will have one!
The Pencil Grip, Inc.
Don't forget about other awesome products from the same company. My very favorite school supplies come from these guys. Check out me previous reviews on their Kwik Stix and Thin Stix – and be watching the blog for another amazing upcoming product next month! I do blog about their goodies because they've been sent to me to review, but I've spent plenty of my own money buying MORE of them because of their high quality and innovative design and craftmanship. I feel like they just get me and my struggles with my kids, whether it's holding a pencil, using scissors safely, or being able to facilitate painting without a humongous mess!
See how others have enjoyed these training-minded kids school supplies by clicking the banner below: