It seems like I always have a preschooler in the house. With 4 kids aged 8 and under, I hear one question all the time from my friends when they realize that we homeschool. "How do you homeschool with a baby and a preschooler underfoot?" Luckily, I was recently able to review a book from Gryphon House. They have a resource out that demystifies the whole situation.
The Homegrown Preschooler: Teaching Your Kids in the Places They Live is a 200+ page book that really shows readers how to have an awesome home preschool for their family, and it incorporates so many things into their regular environment.


While reading through the book, I was glad to see that authors Kathy H. Lee and Lesli M. Richards included some unique aspects to preschool education at home. As homeschooling parents, they understand the sacrifice that parents make to stay at home and to teach them and learn together as a family. They also understand how important it is to integrate learning into regular, every day life. We just do not have time to spend 6-8 hours of one on one time with each kid!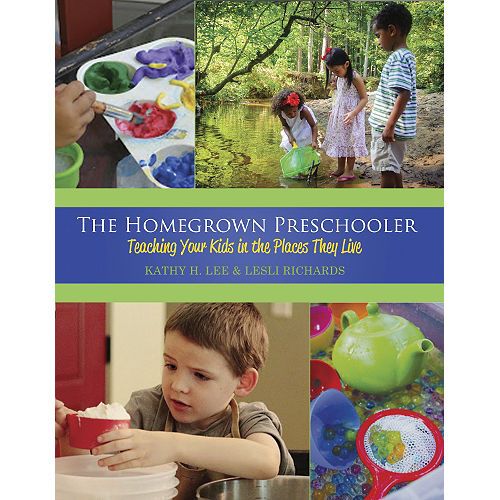 There are more than just activity ideas in this book. There are chapters that discuss how they came to homeschool, learning through play, how to prepare a home preschool, ways to slow down and teach every day things, organization, how to teach during days and seasons that "don't fit in the box", and special circumstances (special needs, adoption, chronic illness, etc).
The second half of the book is comprised of tons of activity ideas, divided into Home Life, Science, Gross Motor, Fine Motor, Math, Language and Emergent Literacy, Art, and Social-Emotional. There's also an appendix and index at the end, which I appreciate so that things are easy to find!
I loved all of the little tidbits throughout the pages of the book. There are inspirational quotes, recipes, special side-notes from the authors, tons of huge, full-color pictures, and field trip ideas. I felt like we got an up-close look at their families and how they operated.
There are so many awesome ideas that I had never thought of or tried before. You'd think that since I've had a preschooler in the house for over 5 years strong now, that I would have seen it all, but that assumption would be incorrect!
We tried several of the activities. Our favorites were Animal Charades (gross motor), Wipe It Up! (cleaning activity), Aluminum Foil Sculptures (art), and Shakers (fine motor). There is a section on using a light table. I may have to see if we can get one put together as there are instructions on making a DIY Light Table in the back of the book. It's really detailed, so I think that we could totally do it! I love the idea.
Another aspect about this book that I like is that there's a section with service activities. It seems like the closer we get to holidays, the more we look for ways to help others in our community. It can be hard to come up with service ideas for small children because a lot of the in-person opportunities have age requirements that make it difficult for families with mixed ages of children, or only young children, to participate in. There are many ways to serve highlighted in this book, and it will be fun to try more of them! We already got started with the Expired Coupon Box, and look forward to beginning more projects together.
The activities and ideas presented are practical, inexpensive, and fun. Engaging preschoolers in educational activities can be much simpler than I think most parents realize! With just a few simple supplies, this book, and a willing heart to engage with your kiddo for a few minutes each day, it can be simple to teach preschool at home to your child.
The Homegrown Preschooler: Teaching Your Kids in the Places They Live is available for $29.95. It is suitable for any parent (or older sibling, child care provider, Mother's helper, and so on) that is seeking advice on how to make preschool at home fun for kids from toddler through kindergarten. Many of the ideas could easily be used with the whole family.
Are you interested in seeing what other people thought about this book, or to learn more about Gryphon House's book Global Art: Activities, Projects, and Inventions from Around the World? Click the banner directly below.

Thank you for visiting my blog! I can't wait to share more homeschool reviews with you in the near future.