History is a tough subject to take on for me, because it is so involved and there are so many intricate details. I think all homeschooling moms have their strengths and weaknesses, right? When I had the opportunity to review a history course with my 4th grade daughter, I was very excited. We chose Veritas Press Self-Paced History: 1815 to Present, which includes coordinating 1815 to Present Flashcards as a class resource. Veritas Press is such a well-known leader in homeschool resources and curriculum that I was actually really excited to get this program started!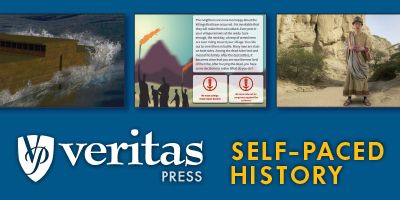 What is Veritas Press Self-Paced History?
This program is a grammar school history curriculum that your students can do anywhere, any time, as long as they have a computer with internet connection. Specific technical requirements are listed on the course's FAQ page. It's important to note that you'll need to have any popup blockers turned off and that the program uses Adobe Flash Player 10.
The program is completely online, and is very involved. Veritas Press Self-Paced History: 1815 to Present has a total of 160 lessons (which includes graded quizzes and tests every few lessons), which provides for a full school year of history instruction. They recommend 5 lessons a week for a total of 32 weeks.
Along with the online course, each student will receive a set of flashcards that compliment the program. While this information is given and available within the online program itself, having the flashcards in hand gives students a chance to review and study the information when they're not online.
Each lesson ranges from about 20 minutes to 45 minutes, and it includes videos, audio snippets, games, review questions, timeline practice, quizzes and tests, and flashcard review. It reviews topics previously covered so that students are constantly being asked questions from earlier topics. This ensures that students are not just memorizing the fact to pass the test and then forgetting the information. It encourages long term memories of the historical information, which leads to a much deeper understanding.
Its target age group is from 2nd-6th grade. From what I have seen through watching my daughter working through the program, I definitely think 2nd grade would be the absolute minimum, but I feel it could be extended to students up to 8th grade. A second grader would need to have really good reading abilities and reading comprehension skills to be able to do well in the course.
The cost is $199 for the full-year history program. There is a sibling discount, though, and siblings completing the course at the same time would be just $99.
How We Used Veritas Press Self-Paced History
My daughter chose to complete her lessons at a pace of about 5 lessons per week. Some weeks, we weren't able to get to it. However, the tests at the end of each topic are considered a "lesson", so some days she would complete the lesson before that and do the test/quiz on the topic on the same day, so it was easy to stay on track and not miss out on a regular schedule.
She has been doing her lessons after completing other online activities I've given her for other subjects. She really does enjoy using online resources to teach her and to review topics.
We had some troubles with her not focusing enough and failing a few of the tests and quizzes, so now I make sure that I"m at least in the same room with her when she has her history lessons going so that I can make sure she is focusing. Sometimes it's hard to focus because she has little siblings in the same room doing online work that is also video based (which means I send someone to a different room somewhere else in the house!), and sometimes her younger brothers play toys loudly and just happen to choose to do so right by her while she is supposed to be working.
Basically, it's important to find a quiet place where students can concentrate in order to complete the program.
The lessons are divided into "slides". Once a student finishes one, they click the next button to move on to the next. A slide may simply be a 35 second quick video introducing a topic, or it might be a matching game, tic tac toe, or even old photos or audio snippets about the topic. Most of Grace's lessons have had less than 30 slides, and she has had no problem staying interested in them.
The videos and the people they have explaining the lessons are fun and light-hearted. They do a lot of joking around and make it a fun experience to learn more about the history topics. I never thought Grace would enjoy learning about The Monroe Doctrine, but she got totally into it! She tells me that's her favorite, and she likes when they do review questions about it because she remembers all of the answers. Is this my child?
The constant review and quizzing of information is good for her, because it's way too easy to forget information if it isn't ever applied. I am always happy when I see her mastering some game or quiz because she actually knows all of the information. She's explained all sorts of events in history to me just because she wanted to talk to someone about what she had learned. How cool is that?
Grading
Perhaps my favorite feature out of the whole thing is that it grades everything for you, automatically. Those scores are easy for students to access, and the parent account has them as well.
When checking on your students in the parent area, it has a general Report Card as shown below.
Then, you can go in and look at the assignments and see what grades were achieved on particular lessons. I do wish it had a date on here as to when the student completed the graded assignment, but we do keep detailed records of work completed for school assignments anyway, so it's pretty easy to figure out when she did each one.
Final Thoughts
I like that they make this so easy on the parents! For such a time intensive subject, this program really takes a huge weight off of my shoulders.
I know that my daughter is getting an incredibly thorough education with this history course, and I don't have to be the one to do it! Obviously, that isn't to say that I am not involved at all. I do read over the flashcards with her each time she starts a new topic. Also, if she is continuously doing poorly on a specific matching game or exercise, I might help her make notes so she can study the information before she attempts it again.
Really, though, she is in charge of completing the program and making sure she is putting in the effort. That's another reason why I would say that this program might be difficult for some 2nd, or even 3rd graders. They have to be able to focus for up to 45-50 minutes and to really put an effort into the lesson.
Grades are as simple as can be, since every graded assignment is done so automatically. They give the reports afterward, so it makes record keeping simple. It even gives students the chance to review what they missed so they can make notes or see what they aren't remembering correctly.
I love this program and plan on purchasing it for my students again! I think that next year, I'll do Veritas Press Self-Paced History for both my son and my daughter. They'll be in 3rd and 5th grade then, and I'll have them pick which course they want to do and cash in on that sibling discount!
Veritas Press has made history fun and interesting, while providing a product that parents can breathe a sigh of relief over. Finally, a thorough program that I don't have to teach myself! To me, this is money well spent!