If you want to really engage your children in history, audio books and radio dramas are where it's at. They bring these incredible stories to life in a way that a text book just cannot do. We were recently sent a review copy of the latest Christian audio drama from Heirloom Audio Productions called With Lee in Virginia.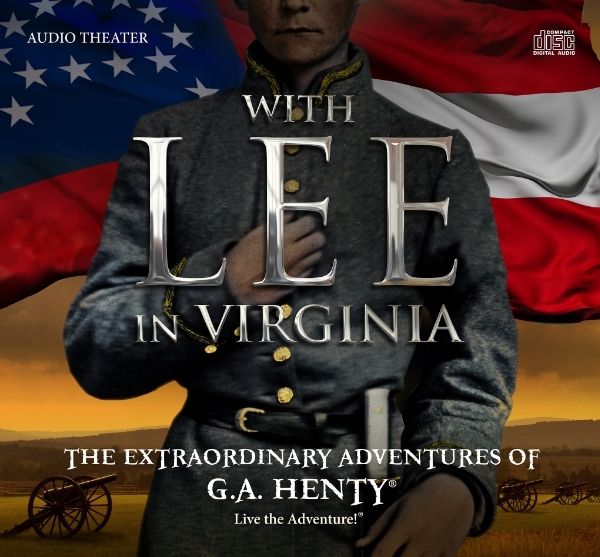 With Lee in Virginia
For our review, we received a 2 CD set, which provides over 2 hours of professionally produced radio drama. What I loved about this adaptation of the G.A. Henty book of the same name is that it had characters that my children and I related to. We were drawn into their every day lives, their struggles, their hopes, their dreams. More than that, my kids were able to get a seemingly real glimpse into what life was like during the American Civil War.
In addition to the 2 CD set, we also received a ton of extra bonuses available for download, including: an MP3 version of the audio drama, an illustrated With Lee in Virginia ebook, the official soundtrack, an official cast poster, a 48 page full-color study guide and discussion starter, a printable quote from Robert E. Lee, and unlimited access to their e-newsletter.
While listening to the story, there were scenes with violence and death, but the characters showed true emotions when working through these events. My children weren't phased by it, and they were able to better understand what war would have been like at the time. It also gave them a peek into what slavery was like back then and how good and honorable families still might have practiced it. This opened up a big discussion with our family about how we don't have to follow social norms that we don't agree with, even if it makes us seem weird to others.
Standing up for what is right and just and kind is always important. This story backs that up completely and was a fun way to get a chance to talk about it naturally with my kids.
With Lee in Virginia Study Guide
My children didn't have a lot of background knowledge about the Civil War as we haven't covered a ton of American history yet, so learning about General Robert E. Lee and General Stonewall Jackson was new and different. I loved being able to refer to the study guide for more information. There was a great biography of each man in the study guide, so my kids were able to read about each man in more depth.
We were also able to include some map skills and geography when using the study guide. There was a map of the states involved in the Civil War, and it showed the path that the characters in the story took. It posed some critical thinking questions about the length of the path, and why they might have had to take that route.
As with the study guides from other Heirloom Audio Productions titles (like Under Drake's Flag and In Freedom's Cause), each disc has been broken into sections in the study guide with Defining Words, Listening Well questions, and Thinking Further questions. No matter what age, all students and adults will be able to learn quite a bit with the study guide as a supplement to the audio CDs.
We listened to the audio drama on our way to and from playdates, and I pulled up the Study Guide while we were out from my phone. I would ask a question or two any time we stopped at a new destination, mainly to continue to engage them in the material.
The Listening Well questions were great, because it tested their comprehension of the scenes they just listened to. These questions were things like, "When Vincent protests that he only stopped Onus from whipping a slave and her baby, how does Jonathan respond?" and, "How many men does the Confederacy have? The Union?"
They were able to try out their critical thinking skills with questions like, "Why does Tony jump into the water when he doesn't know how to swim? When we are afraid, do we always do the rational thing?" and, "How does the change in Vincent's life change the lives of many others?"
The vocabulary introduced was a challenge for sure. I did like to go over some of the words occasionally, though, so they would better understand the story. Some of the words we ended up looking up were parole, sniper, notorious, sympathizer, and picket line.
Star-Studded Cast
When listening, you might recognize some of the stars that lend their voice to the characters in With Lee in Virginia. Actors such as Kirk Cameron, Chris Anthony, Sean Astin, Kelsey Lansdowne, and Jim Weiss. Many of these voices were recognizable to me, though my kids didn't notice. I thought it was really neat to hear them all as they portrayed characters in this Civil War drama.
As I have learned to expect from Heirloom Audio Productions, the quality was outstanding. Professional sound effects, music, and voice acting made the story come to life in a fun and exciting way. My oldest 3 children, ages 5, 8, and 10, enjoyed listening to it and asked me to turn it on when I forgot to as we got into our vehicle. They couldn't wait to see what happened next!
I highly recommend this resource to other families, homeschooling or not. It is an interesting resource to go along with any Civil War studies that you or your children might be doing. It would also be a way to kick start a new study of this time period in American History.
See what other families thought by clicking on the banner below.