In a one-income, homeschooling household, saving money is important whenever possible! Finding a good deal, being frugal, and shopping around can make a huge difference in the household budget. Recently, I was given the opportunity to review a book by Christi the Coupon Coach, called Couponing Made Simple. A few years ago, I couponed all the time and saved SO much money. I was excited to see what "simple steps to successful couponing" Christi had in store with this book.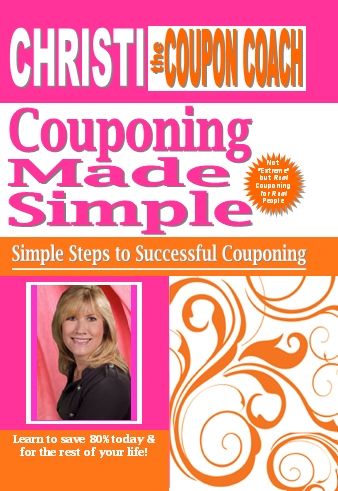 Couponing Made Simple – Really!
To begin, Christi shares several personal and testimonial-style stories about how families have been able to save real money using her couponing rules and advice. She then talks about "A New Way to Shop" where she gives 2 major rules of couponing. Next, she goes over the language of couponing and other methods of getting a good deal. This goes beyond "just" coupons. There are many ways to save when you are at the store, so this will spark your money saving ideas for sure!
Christi discusses organizational systems that can help you keep all of your ideas, offers, and coupons in a safe, handy spot so that you can use them all effectively. Then she walks you step by step, from buying newspapers all the way to celebrating and sharing! There is also a chapter on tips & tools you can use to save even more money. These methods are ways that you can really save a lot of money, many times without the use of a coupon at all! Learn how to think outside of the box to keep more money in your wallet! I used many of the ideas from this section for my shopping session.
Finally, Christi goes over the ethics of couponing and teaches her reader how to always be on the lookout for the best deals. Sometimes the grocery store isn't the best place to find a deal. Unconventional places might yield the least expensive options, so it's a matter of finding out about it and taking advantage of the great deal!
My Shopping Trip
I actually used her methods and ideas several times over the past month since reading Couponing Made Simple, but I thought I'd share one of them with you so you can see how a family like mine has been able to save a lot of money. Keep in mind that we don't buy a lot of pre-packaged items, so I knew I would have to be on the lookout for deals on produce, meats, yogurt (my kids still eat it a few times a week), and other fresh foods. I also knew that I could look for deals on HBA (health & beauty aid) items like shampoo, conditioner, razors, deodorant, toothpaste, or cosmetics. Those often go on sale, and matched with some couponing can be found for free or very close to it!
Right about the time I started reading Christi the Coupon Coach's book
Couponing Made Simple
, I started taking some of her advice. One of her tips is to sign up for and look out for manufacturer's coupons. I saw a sign up form on Facebook for a free razor coupon and quickly signed up!
Additionally, I got a coupon during a normal shopping trip at my local Kroger for $2 off my next purchase. It didn't cost me anything extra to get that coupon, and I didn't want it to go to waste. That's like free money!
Finally, I had seen a TERRIFIC sale on raspberries the week before my shopping trip, and they kept running out. The packages were spoiled when they got to the store, so even though they had been marked on sale for 99 cents per container, they had nothing to put out. Christi's book reminded me about rainchecks, so I marched up to the store and got one! The customer service person put "unlimited" on the quantity, which was awesome! Raspberries freeze VERY well for smoothies, so I was excited that I could use the raincheck to come back to the store any time over the next month to get them at the same great price that I missed due to the spoilage. Score!
Look at what I picked up! I love to buy fresh foods for less. Free razors from the coupon I got in the mail rocks, too. I got 24 different packages of items for less than $23. This was almost all fresh foods, too! Using coupons and a rain check, I was able to save a lot. One fun thing about this way of shopping is calculating the total percentage of savings. Do you want to see how I did?
15 containers of raspberries
Sale Price: $2 each My Price: .99 each
2 Double pack of Angus patties
Regular Price: $5 My Price: $3
6 organic yogurts, marked down due to their sell by date
Regular Price: $1.39 each My Price: .69 each
Package of Schick Razors
Regular Price: $9.49 My Price: FREE! (with that coupon I signed up for)
Price before coupons, markdowns, and rain checks:
$57.83
Price after savings:
$22.99
Percentage of savings, thanks to "Couponing Made Simple":
60.25% SAVINGS!
I really like the layout and tone of the book. Christi is so sweet, and her easy-going, practical, and friendly attitude leap from the page. It's an easy read, and full of valuable information. It's written in such a way that even a pre-teen or teenager could read it and start applying the information. That might be an idea for a home economics project!
I've had several friends ask me for couponing advice since they know I've done it a lot in the past. I'll recommend this book to them, now, instead of trying to explain it myself! She does a much more thorough job than I am capable of and doesn't miss a step. She also has some resources listed on her website to help anyone looking for couponing resources.
Grab Your Copy of "Couponing Made Simple"
Are you interested in learning more about this great book? It's practical advice and step by step instruction for living in a more frugal way without compromising your ethics! 🙂 You can purchase Couponing Made Simple for the retail price of $20 for a print book or $4.99 for an ebook. Check out the link, because it might be on sale for less! (At the time of posting, the physical book is 10% off!)
How do YOU save money?
What tips and tricks do you have for keeping your costs down? Have you ever read a couponing book?