Here it is, the beginning of the school year for most of us. I know a lot of moms are panicking about solid language arts supplements to help their kids actually enjoy learning while having fun. We have had the chance to review a great program that is working well for all 3 of my big kids.
Essential Skills Advantage is an online learning program for students with thousands of activities at the kindergarten through 6th grade level. Subjects include reading and beginning reading skills, spelling, reading comprehension, vocabulary, and grammar.
To use the program you will need internet access, Flash Player 10 or higher, Java Script enabled, and you will need sound. At this time, it is not compatible with Android tablets or iPads.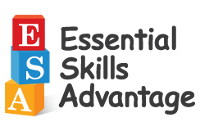 I had all 3 of my older children use this program. My 4th grader went through and picked and chose what she wanted to work on by looking at the individual units and selecting the type of lessons she wanted to complete. Sometimes she would spend 15 minutes working on the program, and other days she spent over an hour.
My 2nd grader did the same thing by choosing the individual units, but he wanted me to tell him exactly how many activities to complete each day. I usually said 2-3 activities and it took him less than 20 minutes each time.
Using the Kindergarten Program
My advanced four year old chose to work through the Complete Reading for Kindergarten Learning Program. Essentially, it is the same thing as the individual subjects, but it is easily organized and clumped together, so he doesn't have to worry about picking and choosing. For a younger student, or a student that is less self-directed, this might be an easier option than breaking it down individually from the beginning. We've been looking for a good program to gently help him to learn to read, so we were hoping that this would be a fun program for him.
From the menu shown above, we picked the Complete Reading program for him. He got to log in with his own login username and password, which made him feel totally special! This ensures that his scores and reporting are credited to the correct student.
Next, the menu below appeared. As he completed sections of the program, the stars next to the sections would fill up with yellow. He finished the Alphabet lessons quickly and is currently working through Phonemic Awareness, which he's almost done with. As you can see, there is a little status bar at the bottom that shows him how far he is in the overall program, as well as in each particular section. This is good for him because he's very visual and likes to see himself progress!

After choosing Phonemic Awareness, the menu below appeared. Each little blue box represents activities to strengthen the mentioned skill. As you can see, this part of the program has more activities than will fit on a single screen, so there is an arrow and numbers to click at the bottom to go to a second page. My son also liked that at the bottom left of the screen, you could choose the big green arrow to go back to the previous menu. He liked this because sometimes he didn't really feel like doing a particular activity here, so he would go back to complete an activity in another section of the program instead.

Below is an example of one of the activities from the Phonemic Awareness subcategory. This is where you need good, working speakers. He had to listen to the sound that was being made and match the picture with the beginning sound. He did well with these activities when he was in a secluded spot in the house. He mostly worked on his ESA lessons on one of our Chromebooks, so I frequently saw him grabbing it and hiding in a quieter room to complete his activities.

In addition to those green bars at the bottom right of the screen, a student can check their own progress by clicking on the blue circle with the yellow star in the middle. This brings up a chart that tells the student how they're doing in their current subject, as well as how close they are to done with that section. For example, as you can see below, my son is 84% done with Phonemic Awareness, and he's been getting grades between 90-100% on the individual activities.

My son loved how much positive reinforcement has been incorporated into this program. Once he finished an activity, there would be a little character doing a silly little celebration dance. Once he got to that screen, he knew he had done well and was really proud of himself.
Parent Reporting
Not only can students check up on their own progress, but Essential Skills Advantage has made it easy for parents to check their kids' progress as well. Parents simply log in, go to "My Students", and then choose the student that they want to view records for from the menu as shown below.


My 4 year old's progress is shown below. As you can see, he was eager to complete tons of activities all at once, so his first dozen or so were all done on the same day. I'm able to see what unit he was working in, which activity he worked on, how many times he attempted it, how many times he mastered it (for example, some of the activities were so fun that he did them multiple times, mastering them each time!), what his high score was, what his last score was, the average score he received, how much time he spent on the activity, and then a time and date stamp of when the lesson was completed.
For each unit that is completed, there is a link to download a certificate of completion if your child is one that needs even more encouragement! I think that's a fun feature that will help motivate many kids beyond what the online program itself provides for them.

Final Thoughts
My kids really loved using this program. I am using it as a casual supplement for my older kids, but my advanced 4 year old is using it much more frequently. I've noticed a huge change in what he's able to recall about letters, letter sounds, sequencing, and a lot more. This is great because I plan on teaching him to read when he turns 5, per his request, and this gives him a huge head start.
I like that it is so user friendly for both the students an the parents. The lessons are colorful and follow a predictable pattern. The different subjects and units are organized well, with a lot of variety. There is plenty of positive reinforcement and the kids are never made to feel bad when they fail at an activity.
For the price, it is a good value and a great way to keep students engaged in language arts. It would be good for remedial students, as well, as it is much more engaging than boring review worksheets or textbooks! We love to use technology in our homeschool, so it's a great match for us.
Try it for yourself!
You can try the program for 14 days with this free trial or check out these sample lessons. The program retails for $7.99 per month!