Summer is a great time to help your kids stay on top of their learning.  No one likes a summertime slump, and math is one of the first to go from their memories when they stop practicing it with daily schoolwork.  LearnBop offers a program that works as an online tutor to help kids retain their math skills and teaches them new ones, step by step.  We received a subscription to LearnBop for Families for the purpose of this review.

LearnBop is an online subscription service. You can purchase it for an individual or for a family of up to 4 students. We got the Family Plan and I signed my 3rd and 5th grade kids up for it.  This ends up being a really good value for multiple students as there is currently only a $5/month price difference between the two plans.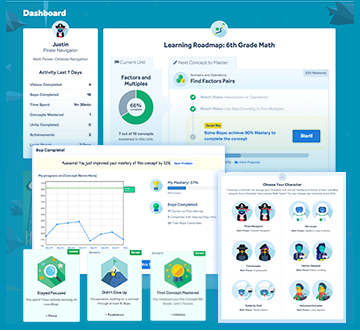 This program is for students in 3rd-12th grades.  If they are a bit ahead or a bit behind, that's okay too!  There are some concepts that go lower than 3rd grade if your student is struggling with the concepts.
You can even change the roadmap if you'd like so that it is a custom fit for your student.
LearnBop starts with a warmup to get students ready to learn.  It uses videos to teach concepts to them, just like a teacher would standing in front of the class.  It shows how to work through the problems.
Each time that your child uses the program, it keeps track of their progress.  It will automatically hold their spot so they know which thing to complete next when they log in next time.
Your student begins with their warm up activities.  Depending on what they get right and wrong, there may be building blocks assigned to them to learn about before moving on to the Unit Concepts.  This ensures that they are able to master the concept with a clear understanding, and so they don't miss any key information.
The lessons are clear and concise.  They are easy to follow and keep track of your student's mastery of each concept.  I like this feature, because it offers visual reinforcement that they are moving right along, and shows them visually how much they have completed and how much they have left to do.
My kids are enjoying this program as a supplement for our math program.  They finished their main program about halfway through the review period, so LearnBop became their only math work.  They liked that the lessons were brief and that they were able to stop and start when they wanted to.
My 3rd grader liked that he could see the full roadmap of what concepts would be covered in order to complete the program.  He is very goal-oriented, so it was like being able to check off a little box for him.
This is definitely helping my kids to continue to learn during the summer time.  It is as rigorous as you want it to be.  To make it less of a load for the summer, I allowed my kids to complete just a little bit at a time.  It was just enough to keep them thinking and learning.
During the school year, I could see using this more intensely as a real tutoring program.  I like that it identifies areas of weakness and automatically assigns lessons to fill in those gaps for each individual depending on their personal needs.
Our family isn't the only one that got to review LearnBop. Check out the other Crew reviews by clicking on the banner below: