Over the past week, I was able to finish reading a terrific book called Papa's Pearls. In it, author Diane Flynn Keith recalls her father and many of the memorable quotes and actions he shared with his family and friends during his lifetime.
From advice about money, to using mind over matter in day to day living, to loving those around you, Papa was full of terrific advice. I'm so glad that Ms. Keith shared Papa's pearls of wisdom with us!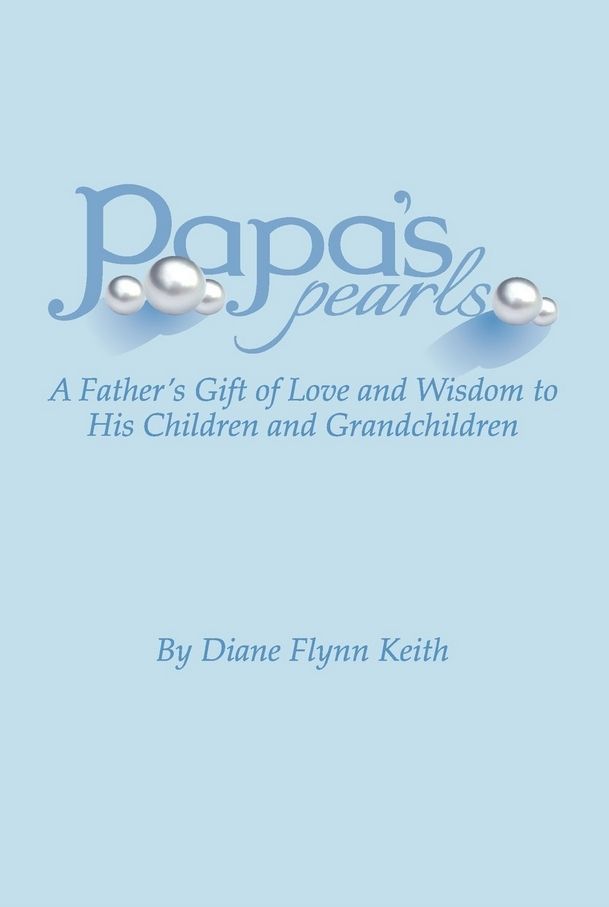 Papa's Pearls is a beautiful tribute to the author's father.
Her dad sounds like an incredible guy with a huge heart. The lessons shared within the book's pages are practical and uplifting. I loved how both his children and grandchildren were quoted for the book. What a beautiful piece of family history, and for it to be something so touching for a broad audience is a testament to Papa's knowledge and timeless wisdom.
My favorite pearl was, "Tell Yourself You Like It." That is a terrific attitude to have. As a plumber, I'm sure he continuously used this mind-over-matter technique to get the job done. I think this could be applied to so many things! Housework, going to a dentist appointment, learning a new skill, cleaning up after sick kids – each of those situations could warrant the tell yourself you like it attitude!
Another of papa's pearls that I liked a lot was, "Be grateful every day." Oh, how I need the reminder! I love how Papa is recalled as a man that talked so highly of his family and bragged about each of his kids and grandkids. This reminds me of my own grandfather and how he used to do that with all of us. I strive to be more appreciative and grateful, so I loved the gentle reminder in this book.
Throughout the pages of Papa's Pearls, Diane Flynn Keith also sprinkles in some results of studies or findings of articles that back up the mantras that guided Papa's life. How neat to see his wisdom proven over and over again, not only in his family's life, but through actual scientific data as well! He knew what he was talking about!
The book retails for $14.97. It is written for adults or older teens, but I found that it was appropriate to share with my children as well. Sharing individual pearls of wisdom with the kids and then elaborating with a story from the book seemed to work best, since my kids are too young to get entirely engaged with adult level books.
My children did appreciate hearing the stories, and it prompted them to ask me a lot of questions about people in our own family, both those they knew and those that had passed away before they were born. For me, it was a short, easy, pleasant read. Once I started, I didn't want to stop!

If you check out the PapasPearls.com website, you can also sign up to the email list and receive a free Papa's Pearls audio mp3.