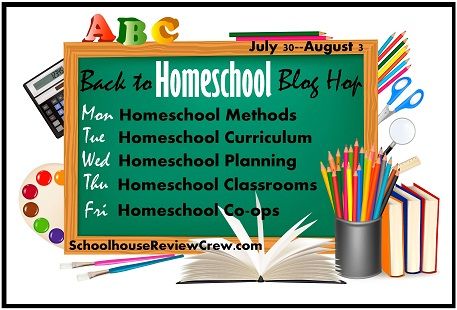 Welcome to the first day of the
Back to Homeschool Blog Hop
, put on by the Schoolhouse Review Crew.
Today's topic: Homeschool Methods
One of the first things I'm asked when I mention that I homeschool is, "How do you teach? Is there a special method or curriculum you use?" While curriculum will be addressed tomorrow, I'd like to talk about homeschool methods today.
If you are considering homeschooling, or if you've been at it a while but don't really know what method you are using, I highly recommend checking a few books out from the library to get a solid grasp on the different methods out there and available. Two books I usually suggest as "must reads" are The
Complete Idiot's Guide to Homeschooling
and
Homeschooling For Dummies
. Both of these books talk about homeschooling methods, curriculum, planning, resources, and more. They both have a good section on the methods.
Here is a very basic overview of SOME of the methods out there today:
School at Home – Essentially recreating the school atmosphere and environment at home. It's not unusual to see actual desks, a separate school room, and the use of text books just like those used at a public or private school. This would generally be very structured with specific time frames for each activity and subject, and would generally follow the school calendar. I know a few families that use this method, and they use various curriculum choices, but I've seen Abeka and Bob Jones University used often.
Classical Education – Teachers use the Trivium – Three stages including Grammar, Logic, and Rhetoric. It focuses a lot on memorization and such during the younger years, and works to create independent, complex thinkers. Subjects are taught in cycles, with the intent of introducing the student to the same subjects/topics multiple times throughout their school years so that they can approach them while they are in each of the stages and on their level. You'll often see Classical families using Latin or Greek in their homeschool.
I highly recommend checking out The Well-Trained Mind: A Guide to Classical Education at Home if you are interested in learning more.
Unit Studies – Homeschooling families aim to teach all subjects surrounding a specific topic or theme. A FABULOUS resource for designing resource studies is one that I've reviewed before: The Joy of Discovery: How to Teach with Unit Studies. Families that use this method take great care to make sure that their students receive adequate instruction in all areas using engaging topics and often seek their children and their input to guide the course.
Charlotte Mason – This method relies almost entirely on classic literature and seeks to instill a love for learning and proper behavior. Literature, art, and music are all important in this model introduced by the educator (Charlotte Mason) from the 1800s. I know several folks that use this because there are free guidelines and resources so readily available. "Good books" are widely available for free online as their copyrights have long since expired. Check out Simply Charlotte Mason or Ambleside Online for more information on this method.
There are many other homeschooling methods out there: Waldorf, Montessori, Unschooling, Lapbooking, Computer-based learning, and so many more.


There are so many different choices out there that it's often difficult to fully commit to one method. That is why MY family is Eclectic in our homeschooling approach. Yes, this is another "method". 🙂
Basically, we pick and choose from what is available out there and use what works best for us! I have not committed to any particular method. Sometimes we use Unit Studies. Sometimes we focus on classic literature. Other times, we use Classical Education resources (this year we'll be using such resources for history and last year we did so with reading instruction). I've never really "fit into the box" in any other area of my life, so homeschooling is no different in that regard for us.
I hope to choose curriculum based on the instructional needs of my children individually, but realize that I have to pick things that also correlate with my TEACHING style as well. More on that tomorrow. In the meantime, please check out other participating blogs to find out what they have to say about Homeschool Methods!
If any of you guys are blogging along with me on the topics this week, please leave me a comment with your link(s) so I can read along!