My kids are always wanting to play on the computer.  My rule is that they have to actually LEARN something if they are going to be on there, particularly since we only have two computers to split between 4 kids!
A program that we were recently able to try is called Samson's Classroom.  It is a great game-based learning program for kids in grade K-5.  It is run completely on the web, so there is nothing for you to download.  The program includes Sight Words with Samson, Spelling with Samson, and Reading with Samson.

Each of these sections include several games that students are able to play in order to sharpen their skills without it being too obvious! Kids will love playing the games and advancing to higher and higher levels.  Every section has various games which tie to the theme of what they're working on.  My kids loved karate chopping the sight words THE very best of all!
I used this program as an incentive to get my kids to finish our regular curriculum.  My oldest two, a 2nd grader and a kindergartner, fought over who got to play first and I had to set up a timer so it was even!  They each played one or two games from each section of the website before swapping with each other.  They asked me each day if they could play on the website again.
I  really like the parent area of the website.  It gives me a Scoreboard which breaks it down by which child is using it and which questions they have answered or games they have played.  It tells me their accuracy on each one as well.  This gives me a good idea where I need to work with them on each of the subjects.  I am able to see if there are problems they are consistently having.  A great way to work on those issues is to use the free worksheets that Samson's Classroom has in its resources section.  They also provide great free lesson plans with games to print out like Bingo or Flashcards to work on things offline as well.
Pricing ranges from $30 per year for one student to $50 per year for a family subscription for up to 4 students.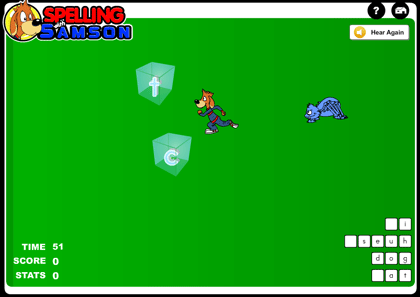 I think this program could be adapted for children in preschool and students who are a little older depending on their ability levels.  For example, 6th or 7th graders with reading or spelling problems would definitely still find this program useful.  Since teachers are able to upload their own spelling lists into the program, the sky is the limit!
We enjoyed this program quite a bit.  While I would not use it as a full curriculum for spelling or reading, I think it does make a really solid supplement.  I enjoy being able to customize it by adding in our own spelling lists or I can use the spelling lists pre-loaded by grade level.  I like being able to let the kids play and basically run free on the site and then checking on it later so I can see how they did without nagging or being too overbearing while they play!  I recommend this program to other families seeking to find a good supplemental, online program for their language arts curriculum.  Sometimes trying the material they're learning in new ways can really make it stick!
Still not sure?  Feel free to try this free demo of the program!  Be sure to check out what other homeschooling families had to say about this product by visiting the Schoolhouse Review Crew!


Disclaimer: I received a free copy of this product through the Schoolhouse Review Crew in exchange for my honest review. I was not required to write a positive review nor was I compensated in any other way. All opinions I have expressed are my own or those of my family. I am disclosing this in accordance with the FTC Regulations.