I've started my 12 and 10 year old on The Typing Coach Online Typing Course as part of our review for The Typing Coach and the Homeschool Review Crew. I want them to learn to type because keyboarding practice is so important in today's society. We all need to be great typists to get along in a digital society, am I right?
My mom was a receptionist and did a lot of transcription work while I was growing up, so I still remember her working on a blue-screened word processor when I was too little to even read. I always admired that she knew exactly where those keys were without looking at her fingers, and I really wanted to do that, too! She was also blazing fast. I wanted to type like that.
Since about middle school, I have always typed quite quickly and accurately. I grew up loving typing games that measured speed and accuracy. Admittedly, I was kind of addicted to them and thought they were so fun. I actually learned how to type properly from them, where to place my fingers, and memorized the keyboard. It wasn't a grade for me, it was kind of an obsession!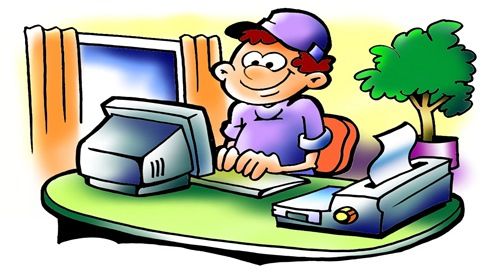 It came to my attention, recently, that my kids
still
hunt and peck while they type, despite the numerous programs we've tried before. Honestly, I expected them to use proper hand placement, posture, and to have the keys memorized because we've done quite a bit of the animated typing websites. Instead of getting a true feel of the keyboard, apparently they were just playing the games and not retaining the skills at all. This makes me crazy!
The Typing Coach is for students in upper elementary and up, and is designed to be used to cover one lesson a week for about 10 weeks. That said, he expects 100% accuracy before a student moves on, so the course could take much longer than that if your child needs to repeat lessons for accuracy.
As you see in the graphic above, there are many topics covered. When you click on the arrow next to the topic, the content is shown and you can work through everything.
To get started, you click on the Course Introduction sections. It leads you to the Course Introduction, a visual tour (which I'm placing below for you to watch if you'd like), tips for using the program if you do not have Microsoft Word (we just use Google Docs and it works great!), tips for playing audio and video while typing, an explanation of The Typing Coach method, and more. You can also print off the necessary PDF resources from there.
Your student will need a printed copy of the Student Packet, which contains many practice exercises in the form of practice lines, paragraphs, and some tips. As your student completes lessons, the instructor, David Kimball, will refer to these sheets. He also gives them some typing practice that they will ONLY hear from him as they do the audio on the lessons.
You'll also need to print out the Learning Checks Packet, which are essentially their tests. These sheets will be used for them to read from to copy as they type in the online testing center.
You can also print out a Progress Chart for your student so they can keep track of lessons they have completed. For the student that needs more recognition than simply moving to the next lesson, be sure to use this so they can see what they've accomplished!
The Typing Coach – The Lessons
To complete a lesson, your student will go to wherever they left off last time. As I mentioned above, they're expected to get 100% before moving on, so if they didn't last time, they'll repeat the same lesson again.
The lessons are audio and video lessons. They'll mostly be turning the audio lesson on in one tab of their browser and then have a word processor open in another tab or program so they can type along as their instructor tells them to. When we sit down to do lessons, I just open a tab of Google Docs with an empty document, turn the speakers up, and have them press play on their current lesson. Mr. Kimball walks them through everything they're supposed to do.
The biggest shock for my kids was that they were asked to TURN OFF THEIR MONITOR for lessons and tests! Typing "blind" like that was really intimidating for both of my big kids at first. I honestly feel like this was the key to them doing such a good job, though. Their accuracy is improving, and the speed is getting better now, too. I'm really starting to see progress.
I was skeptical that a primarily audio program was going to help my students (grades 4 and 6) to learn to type. I think that by keeping it more simple, they're able to really focus in on the skills rather than getting caught up in the games like past programs we've used. I'm really please with it. We'll continue with it through the summer for sure.
As they work through lessons, they're sent to the Practice and Testing Center, which is online. You register there and can get email copies of their scores and progress. It saves the information in there so you can always go back and look, too. This part of the website is great, because you are able to pick from all of the practice pages and testing pages (which correlate with the pages in your Learning Checks Packet), set the amount of time that they're supposed to be given for it, and then it loads it for you. I love any program that will automatically grade for me! This is a time saver for my big family.
What did we think?
I had my kids doing these lessons 3 times a week and we're still on the Top Row. We're doing a lot of reviewing and practice between classes in the form of typing in other programs or on online games. I can tell that they're trying to be accurate now and are much more aware of how they're typing. They're really trying!
The Typing Coach program can be purchased as an annual subscription. It is affordable and really works, in our experience! There are even slower paced lessons, which I did use with my 10 year old. Those lessons are recommended for roughly 8-11 year olds. While The Typing Coach was created originally for high school students, I definitely think it works great for upper elementary and middle school students as well!
To see how other Crew members liked this program with their children, click the banner below: