Math is one of those subjects that we all want to be sure our kids are excelling in and understanding the information. Math Mammoth has several individual math units in its Blue Series for students at a 1st-8th grade level.
Math Mammoth Blue Series Review
Our family received 3 different titles from the Blue Series:
I had my 4th grade son work through Data and Graphs, and I started my 6th grade daughter on Statistics & Probability. I looked through the Expressions & Equations book, and I think I'll save that one for Grace to use during the summer. There are a few things in there that she hasn't covered yet in her regular curriculum, so I want to give it a little bit of time.
Math Mammoth is a printable program that comes to you in a PDF either on CD or as an instant download. You can print at home or even have it print and bound at your local copy center. I mention this because we have used the Light Blue series in the past when my daughter was in 1st grade, and she preferred to have her book put together that way. You could also purchase a print copy as noted on the website if you'd like to have all of that done for you!
For this review, I simply printed out what we needed and used a paperclip to keep it together. This made it easy for my kids to flip between pages. You see, Math mammoth is a worktext. The instruction and the workbook-style problems are all presented together in one easy to use unit of study.
The Blue Series is topical, so you can pick and choose what your student needs extra help in. Alternatively, if you prefer to have your child master topics individually, this would be a fun way to piece together important topics to use as a full homeschool curriculum. For a little more information about how the Blue Series works, check out this video:
All of the Blue Series books are sold together as a bundle, or you can purchase them a la carte. They're awesome for us, because my kids have certain things they just need extra practice on. Sometimes seeing (or hearing) the information in a new way can really make those lightbulbs go off. That was definitely the case for my daughter.
Data and Graphs
My son is a total math whiz. He's done really well with his computer-based program for the past two years, and really enjoys math. He has never tried Math Mammoth before, but now he's trying to encourage me to switch him to these worktexts!
I asked him why he wants to change to using Math Mammoth as his main curriculum and he told me that it's because he likes how the book explains the problems and that it just makes sense to him. He didn't feel overwhelmed working on this 80 page printed book. I printed it out in color so it would be more visually interesting for him, and he was hooked.
This Blue Series title covers lots of different types of graphs, such as line graphs, bar graphs,circle graphs, and pictographs. It also covers mean and mode toward the end in relationship to information on graphs.
Maria Miller, the author, has also included several links to complimentary websites with further practice, quizzes, and games at the beginning of the printable. We had fun exploring each of those as well, and it made his math sessions more lively.
Statistics & Probability
Mode, Mean, and Median have always been a struggle for Grace to keep straight. The practical instruction and multiple examples and problems in this book pertaining to those have really helped her to understand. She worked through the problems and I could just see her gaining confidence from the first problem to the last. It was cool to talk with her when she was finishing up, because she acted like it was no big deal that she was finally getting it!
In addition to that, Grace has been learning about range, histograms, boxplots, stem-and-leaf plots, random sampling, comparisons, and probabilities. This worktext is 137 pages long, and I just printed as I went so she wouldn't feel overwhelmed by the amount of work that the text contains. We're sticking it in a small binder as she's finishing the work. I'm just hole punching it and putting it in there for easy access to refer back to when she comes across concepts and needs a refresher later.
Something that I really like about it is that it incorporates reviews every so often. There is also an answer key in the very back. Depending on how you want your child to use this worktext, you could have this available to them to check answers, or you could keep it to yourself to see how they did by grading it yourself.
Expressions & Equations
This Blue Series title was intriguing to me. I purchased the Light Blue series back before Maria Miller had completed 6th grade, so I was very much drawn to this title as its information was not really covered in the materials we have. I was interested to see how she would present information to higher grade levels.
I'm not disappointed, as she has been able to continue to provide interesting and straightforward explanations on math topics that kids can relate to. She gives several examples of each concept and provides students with practice so they can master using that knowledge as well.
This book is 107 pages and covers the order of operations very thoroughly, as well as writing and simplifying different types of expressions. It gets into the distributive property, expressions and equations, inequalities, using two variables, and more. I'm saving this one for the summer, because Grace hasn't covered some of what she needs to have background info on before tackling this book.
I recommend printing Expressions & Equations out in color, because it really livens up the information! I may seriously go through this and do it myself, because I thumbed through it and found lots of information that I don't remember learning myself. Surely I did, but it's been a long time.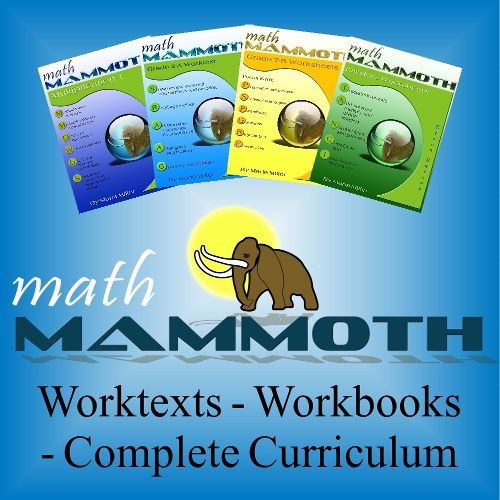 If you'd rather have all of your grade-level material in one resource, Math Mammoth also offers a Light Blue Series, which is designed to be a complete grade of math curriculum. Like I said, we've used Math Mammoth before, and it was the Light Blue Series for grade 1. My daughter enjoyed it, and it was very simple for her to pick up and go!
If you're interested in seeing how other Crew members used Math Mammoth, both the Blue Series and the Light Blue Series, click the banner below!